The Quest for the Silver Penguin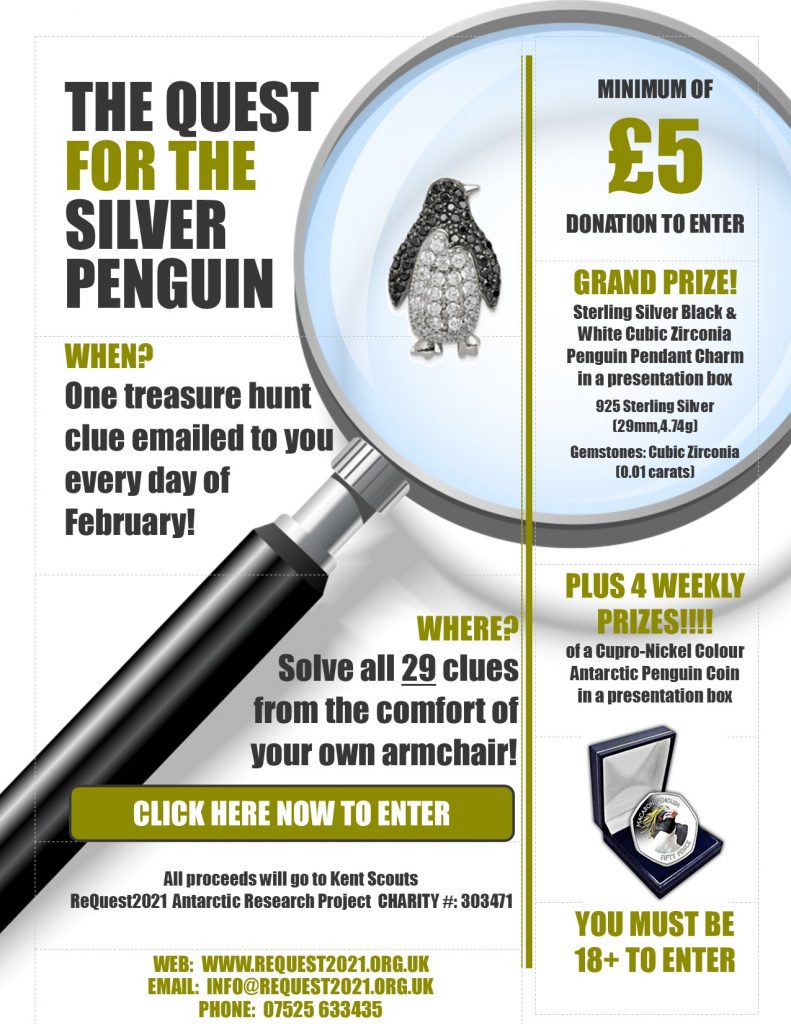 The Quest for the Silver Penguin
A Leap Year Fun Fundraising Treasure Hunt during February.
All 29 clues will be emailed out daily and can be solved from the comfort of your own armchair. No need to actually visit the treasure locations situated all around Kent. Unless you want to!
There are 4 weekly prizes of a Cupro Nickel Colour Antarctic Penguin Coin in a presentation box which will be awarded to the first person to email in the correct answers each week. The coins are Rockhopper, King, Adélie and Macaroni!
The Sterling Silver Black & White Cubic Zirconia Penguin Pendant Charm also in a presentation box will be awarded to the first person to complete all 28 clues plus send in the final answer on or after 29th February 2020.
A mininum donation of £5 to participate. (If any of your weekly answers are wrong you can donate another £5 to re-enter the following week and stay in the hunt!). To enter the treasure hunt late and catch up on the questions missed you can also donate £1 extra for every day you have missed.
Just donate on the following link to enter:
https://uk.virginmoneygiving.com/SilverPenguinQuestTreasureHunt
and then email alan.noake@kentscouts.org.uk to register your email address to receive your daily clues!
All proceeds will go to Kent Scouts ReQuest2021 Antarctic Research Project Charity #: 303471