Antarctica In An Icebox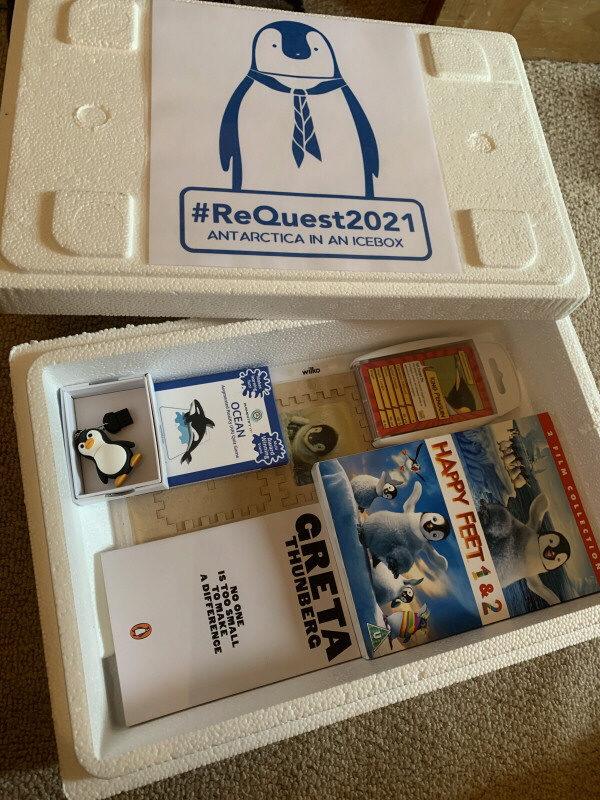 A box of fun and educational resources about climate change, environment, wildlife & heritage.
Welcome to Antarctica In An Icebox! These packs of resources will be used to launch a programme of activities in Scout Districts based upon all the amazing lessons to be learned about peace, environment and heritage from the continent of Antarctica.
Each box contains:-
Antarctica Flag
Antarctic Explorer Map
Penguin Moulds for Making Ice Cubes / Chocolate
Greta Thornberg's Book – "No one too small"
Penguin Chick "Piggy Bank"
Ocean Augmented Reality Cards
Happy Feet 1&2 DVDs
Shackleton: The Boss. Children's Book.
Into The Frozen South Book – James Marr
Shackleton: The Voyage of the James Caird Graphic Novel
ReQuest2021 Antarctica Top Trumps
16Gb Penguin USB stick – packed full of electronic resources!
Penguin USB Stick
Packed full of fun and educational resources about Antarctica, Polar Wildlife and Heritage – videos, activities, books.
AVAILABLE ON EBAY