EXPEDITION BLOG
The aim is for this page to be updated daily while the team is on the expedition between 26th December 2021 and 25th January 2022.

NOTE: Due to very limited bandwidth in Antarctica these updates may prove to be very sporadic and sparse. But fear not there will be absolutely loads of high quality video and images available on the team's return!
SUNDAY 26TH DECEMBER 2021

It has begun! The Boxing Day Departure from Heathrow T5 is the very first time the team has been together in full due to their geographical locations and the late team changes. Their flight leaves at 15:45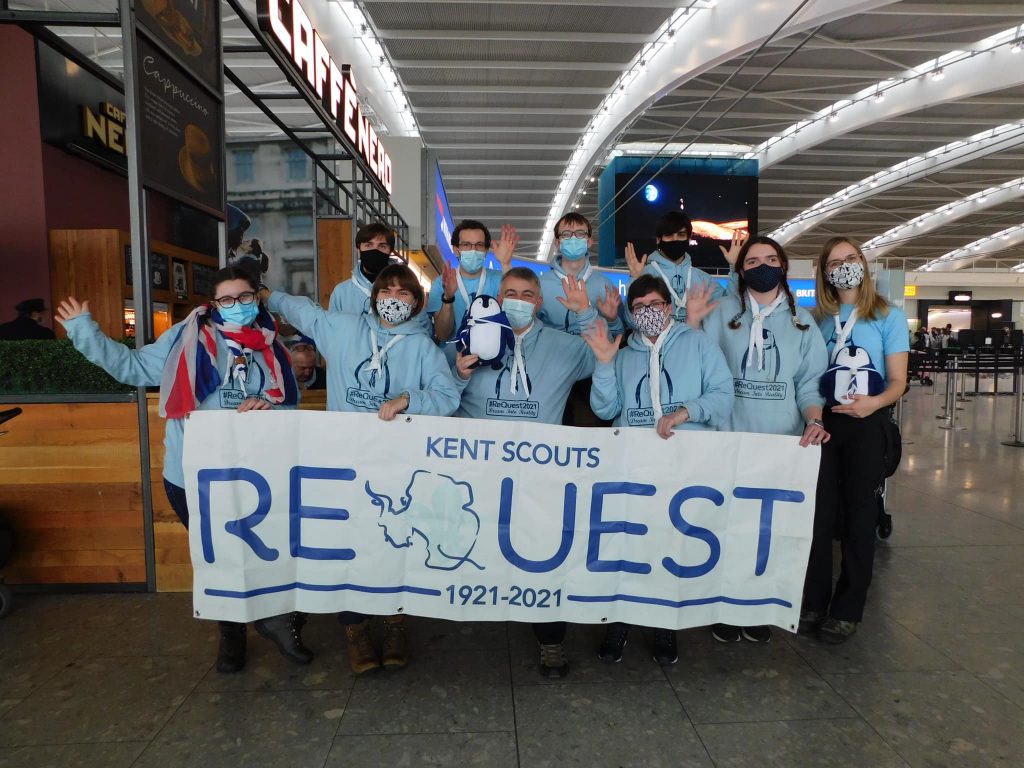 MONDAY 27TH DECEMBER 2021

Lots of waiting around at airports.
Short hop to Madrid. Then long haul flight to Buenos Aries. Then after a one hour bus ride to the domestic airport another 3.5 hour flight to Ushuaia. No photos of Ushuaia, as we came straight to our hotel where we have to self isolate for 3 days. It is amazing to be here though and there was lots of excitement to see the snowy mountains and the Bark Europa moored opposite our hotel as we transferred from the airport.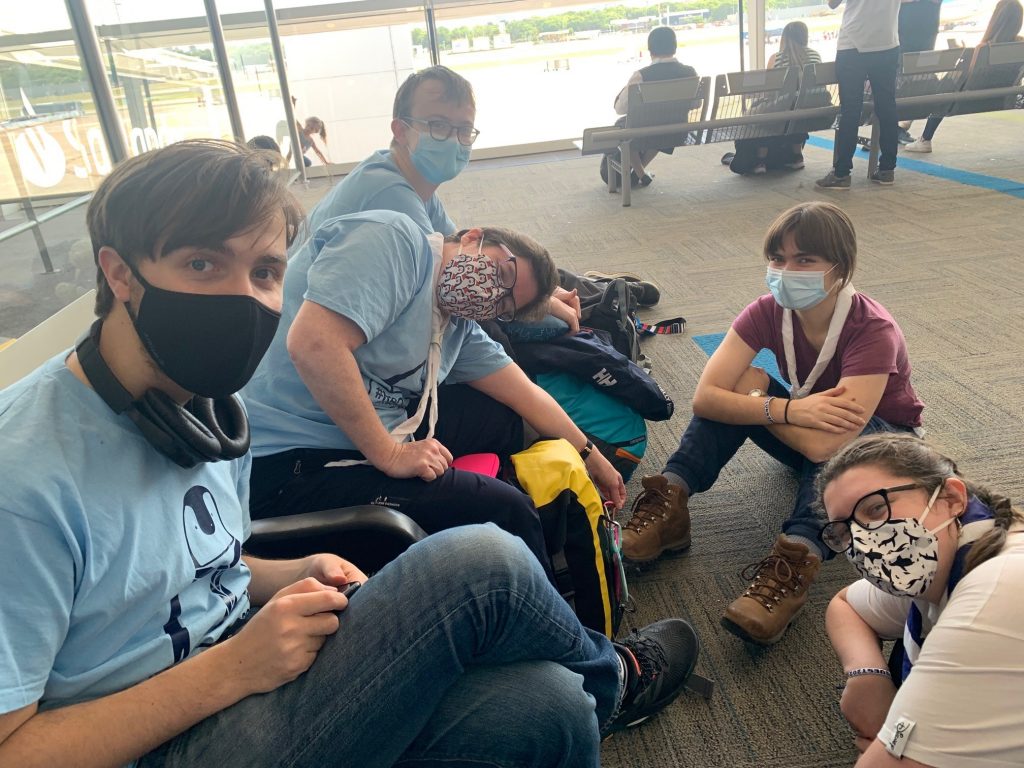 TUESDAY 28TH DECEMBER 2021

Quarantine time!
With less than 48 hours to go until the team set sail, they are all now in a hotel in Ushuaia quarantining. The biggest tease being that they can see the impressive Bark Europa from their windows, waiting to take them onwards on their journey!
Spirits are high, and the final PCR test is tomorrow that will set them on their way to their final destination.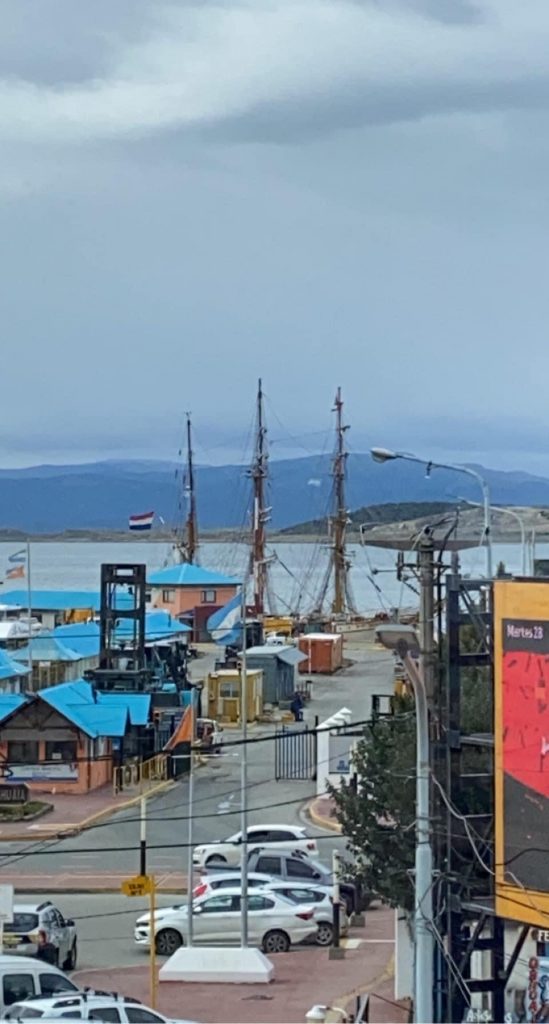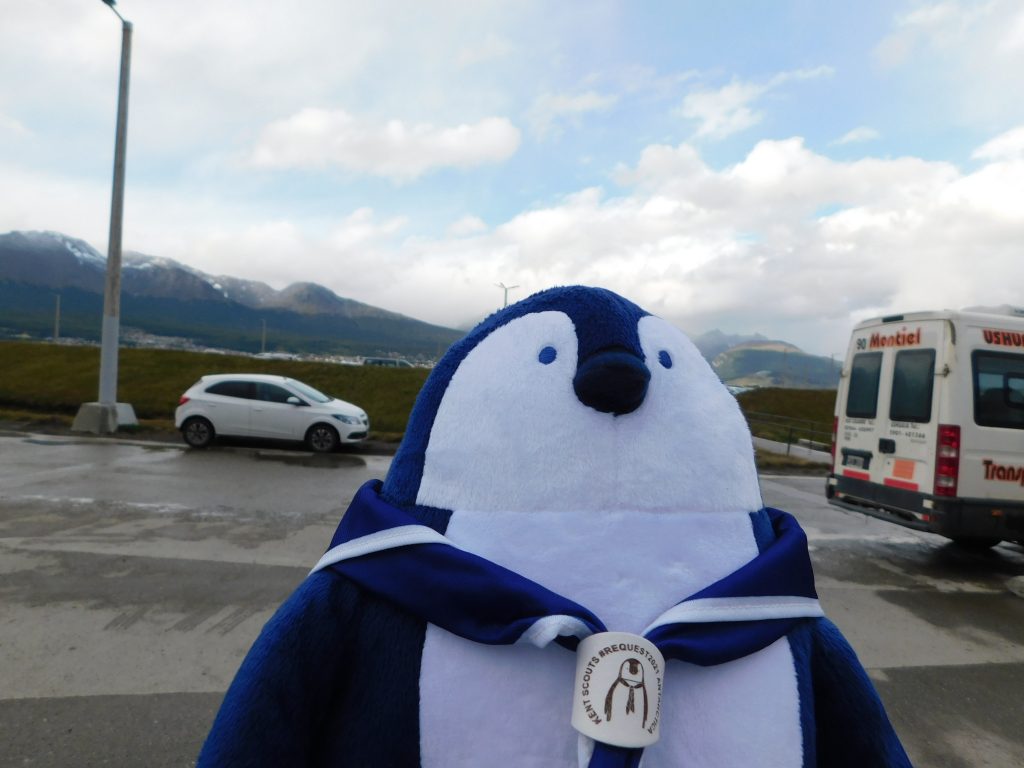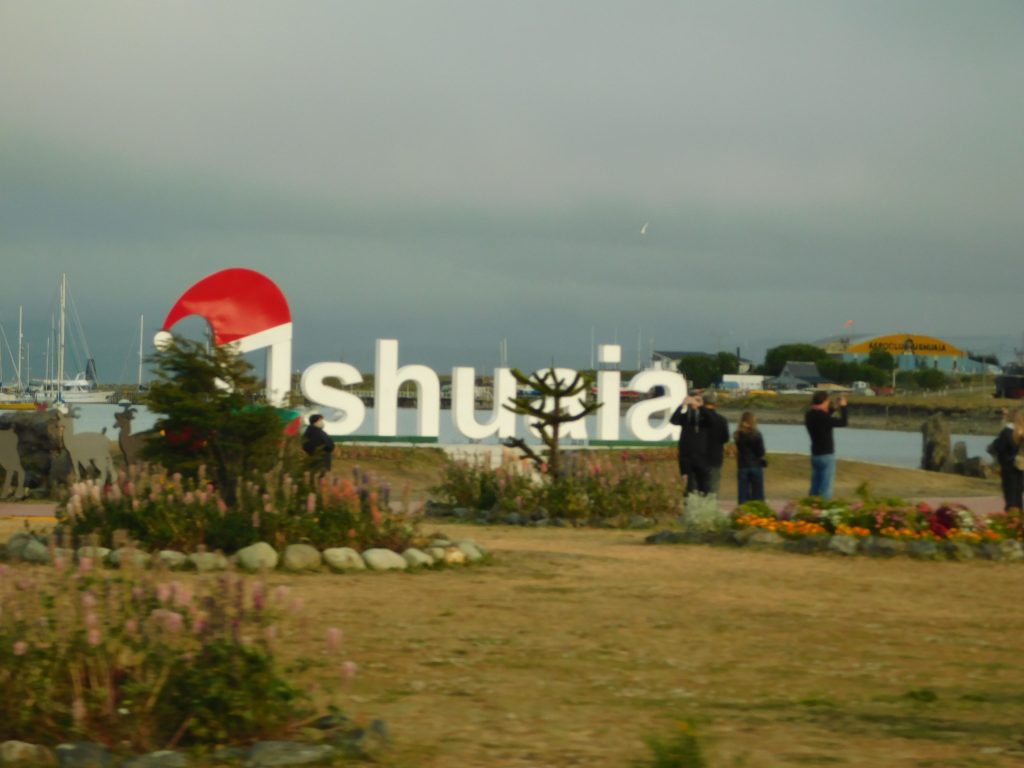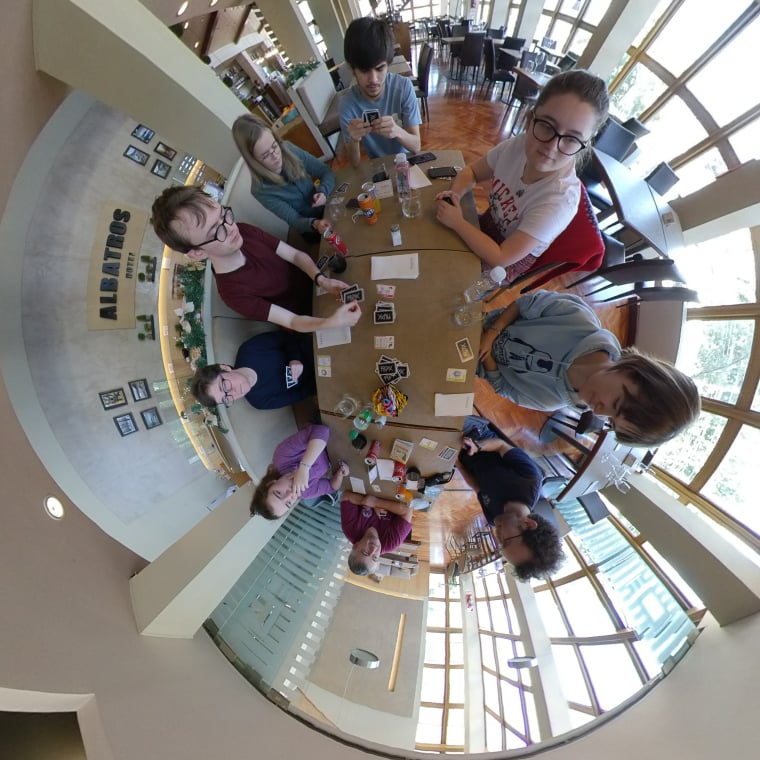 WEDNESDAY 29TH DECEMBER 2021

Author: GENEVIEVE SCULLION
Editor's Note: The team will be taking it in turns from here on to write the daily blog posts for you. In terms of managing expectations once we are under sail, we won't be able to include a huge amount of content but we will aim to give you at least a flavour of each day.
Today we all agreed to meet for breakfast at 8:30 am, which will be around midday back home. It was nice to see a change in pastries for the continental breakfast as it gave us the opportunity to try new Argentinian treats. What stood out today was an Argentinian pastry which was like a cross between a cheese twist and a croissant: 10 out of 10 would definitely eat again. My particular favourite is the array of herbal teas, flavoured with tastes that only this wonderful country can provide. My plan is to take some to drink on Bark Europa to bring me some added comfort aboard.
After breakfast and the endless telling of jokes and playing silly games we went back to our room to get ready for our FINAL PCR test, the final hurdle to jump over before we bord the Bark Europa. Our test time was 1 pm (or 4 pm back home). As we wandered through the street of Ushuaia to the other hotel where the tests were taking place, you could only admire the rugged body of the landscape that shadows us and the buildings that stand upon it like colourful flowers with their unique shape and vivid colours. The PCR tests were taken at the top floor of the other hotel. This provided us with a panoramic view of the whole city. This only made the vision clearer. The views from the top of the hotel were spectacular. You could see from the mountain ranges at the top to the bay below where Bark Europa sat waiting. The entire group got their PCR test done very quickly which was great but a little bit of a shame as we had to say goodbye to those amazing views and return to our quarantine back in our hotel.
Around 2 pm we all went for lunch. The menu at the Albatross hotel is quite extensive and I know we are only here for a few days but even with 10 of us I think we will struggle to eat through it all, but it's a challenge we would all happily take on as all the food we have had so far has been amazing. Over the meal, we went around the table and each stated what we are looking forward to and what is worrying us. I think that all gave us big relief that none of us were alone in our thoughts and concerns about the trip and were all reassured for the adventure we were about to embark on.
Some of the group thought to take advantage of the hotel facility and try the sauna before we plunge headfirst into the cold. These past few days of quarantining in the hotel as a group have given us the opportunity to bond and really get to know each other which we were sadly stripped of the opportunity, up to now, because of Covid.
As it is the last night in the hotel and tomorrow, we will hopefully be on the Bark Europa we have decided to order and try some Columbian food as a takeaway which will no doubt be another interesting new experience.
THURSDAY 30th DECEMBER 2021

Author: LUCY MORGAN
Today we were up early and checked out of our rooms before hanging around and playing some games to pass the time.
At 3 pm we went and met the other 29 fellow passengers that would be joining us on our voyage.
All of our LFTs came back negative, green lighting the whole team to be able to board the ship! Then at 5 pm we finally boarded our home for the next few weeks, the stunning Bark Europa.
As a comparison, the Bark Europa vs. a cruise ship is a small but beautiful vessel. Once on board we were given cosy cabins and a meatball dinner. All be a briefing which included a tour, a safety overview, and an outlook on the forecast (which we are told will not be too rough).
And we are off!
SATURDAY 1ST JANUARY 2022

Author: ALAN NOAKE
Interim Update
Happy New Year folks!
Here are a few teaser photos of some of the real cool recent moments but in the meantime, I am not sure you all want to see photos of the little yellow sick buckets! Have just walked around all the team and although we are all feeling just a tad queasy we are all okay.
Daily updates will resume properly once the team feels up to writing things up. But in the meantime, no causes for concern. All passengers on board are going through the challenge together and supporting each other.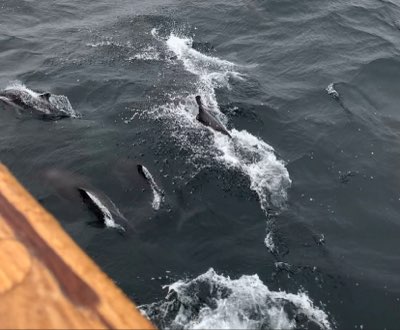 SATURDAY 1ST JANUARY 2022

Author: ALAN NOAKE
ACTUAL UPDATE
Today we set off from Ushuaia at 9am upon the Bark Europa. Many of the team have had great fun climbing the rigging already!
The people onboard have been allocated into 3 watches which span 24 hrs, as part of this the ReQuest team has been split across the watches & several cabins.

Highlight: Dolphins on the the starboard bow
Low point: Generally lots of sea sickness

An amazing way to see in the new year!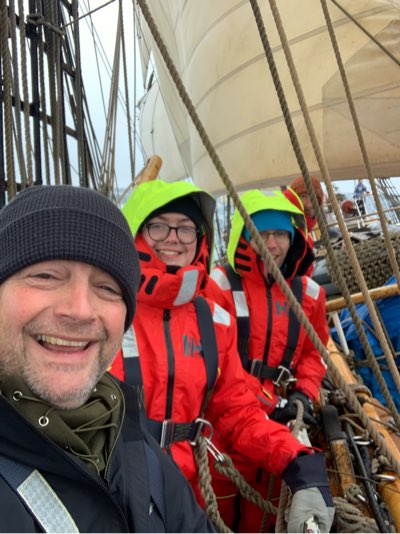 SUNDAY 2ND JANUARY 2022

Author: SAM PAYNE
It has been a busy day for red watch with it also being windy, raining and plenty of rough seas this morn which required lots of sail handling and camaraderie between crew and the voyage crew.
We received the mandatory IAATO briefings that are given before landings.
At 4pm Argo launched as the seas were still. With the help of the main crew, we prepped Argo and launched from the main deck. My plan is to track the float on my return.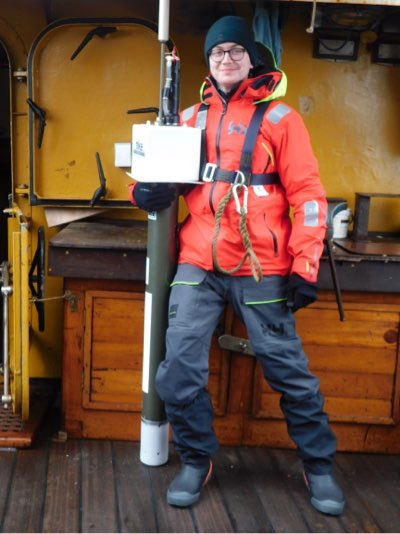 MONDAY 3RD JANUARY 2022

Author: ALAN NOAKE
Sailing again in the am after motoring a bit. A period of close hauled at 6kts in a southerly 30kts heading ESE. Wind shift to westerly expected soon, though we've been waiting for a day and a half for that.
Square sails now down and sail motoring south else we would keep going east and miss Antarctica. We crossed the Antarctic convergence about 100miles N of where it is supposed to be, sea temp dropped from 5.5 to 1.9degC.
Had IAATO briefing and started cleaning all kit velcro and pockets for landings on Antarctica.
Saw a wandering Albatross which have a wingspan of up to 3.5m. Salmon for dinner was nice, and leftover chilli at 3am was welcomed.
First Antarctic land sighting should be tomorrow!
WEDNESDAY 5TH JANUARY 2022

Author: ALAN NOAKE
Today George Stoner was the first person to spot land (King George Island) after the Drake Passage!
This morning we saw our first iceberg, and arrived at penguin island for our first landing, and walked up and around the crater of a volcano.
Saw loads of wildlife including:
Humpback Whale
Chinstrap Penguin
Gentoo Penguin
Seals
Southern Elephant Seal
Weather is a complete change to the Drake Passage, now calm, sunny and visibility is good (between 10-20km) and no more seasickness.
Today was the day we held a Scouts Own for Shackleton to commemorate 100 years since his death and are now having a celebratory lemonade.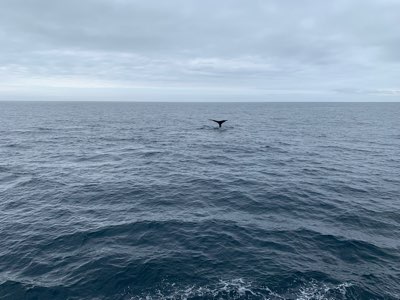 THURSDAY 6TH JANUARY 2022

Author: ALEX MACIVER
We sailed to Deception Island today which is a volcanic island. At first we landed in "Telefon Bay" and saw boiled (by the geothermal hot water) Seaweed and Krill on the shore; a few members also noticed a Weddell seal.
We then explored in and around Telefon Bay, splitting into two groups: one mainly focused on walking all the routes and the other taking its time and learning more about the land we were hiking on.
We climbed round Cross Hill observing the crater in the middle which turned out to be one of the points that used to have volcanic eruptions.
Later in the Evening we sailed down to the old whaling station still on Deception Island and explored that area and some folk looked around "Neptune's Window" which had a remarkable view.
We left the Island now and on course for the next part of our journey…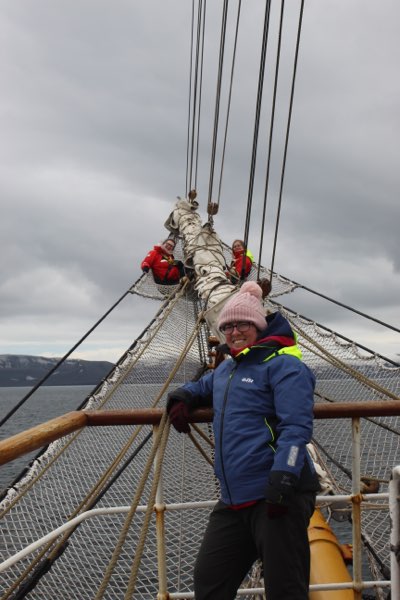 FRIDAY 7TH JANUARY 2022

Author: GEORGE STONOR
The day started with anticipation to launch our Nansen net as part of our krill research project with the British Antarctic Survey. The tall net is suspended far below the water line where it collects krill and other small Antarctic fauna. For the net to work properly the Europa had to be stationary in the water and so we moored in a small icy cove. We worked as a team to assemble the net; the design is true to the original nets used in the 1940s for monitoring krill levels and so assembly involved lots of knots and many brass shackles.
When it came to launching the next we worked with crew members Enguerrand and Beth to use one of the yards (the horizontal beams on the mast) to create a crane for lowering and raising the net. "10, 20 30…50 and 55" called Enguerrand as he watched the makings on the rope identifying the net depth. We took note of the global positioning, weather conditions, drift speed and sea floor depth before re-hoisting the Nansen net. As it came out the sample collector was removed and then sorted and mixed with formaldehyde preservative by Gen.
Meanwhile, in the library some other members of the ReQuest team were busy assembling the microscope we had onboard to examine our samples. We didn't catch much—a single krill—but each result we get is data for the BAS to use to help them to understand the prevenance of krill around the Antarctic Peninsula and Southern Ocean. We look forward to more attempt over the rest of the voyage.
After another great lunch of soup and freshly baked brioche, it was time to take one of the Zodiac RIBs (rubber inflatable boats) around an 'iceberg graveyard' between Trinity and Spert Islands. The shallow waters and tightening passage trap large icebergs on the rocks leaving them to melt away. We cruised between pieces of ice towering into the sky that ranged from brilliant whites through turquoise to deep blues. It was a great place to start my project: using photogrammetry to scan the icebergs and create 3D computer models. In one little space between two rocky headlands we listened to the waters crashing through the cracks and voids of melted space within the bergs whilst the Antarctic turns flew chirped from their nests overhead broken by loud cracks in the ice.
Back on the Europa we spent the late evening cruising between bergy bits to Cierva Cove where the Berguet Glacier rolls off the Antarctic mainland down to the sea. The Sun cast a golden light over the icy mountains that stretched far back and high into the clouds above. We finished the day with whisky chilled with lumps of glacial ice our guide Sarah and I pulled from the iceberg graveyard.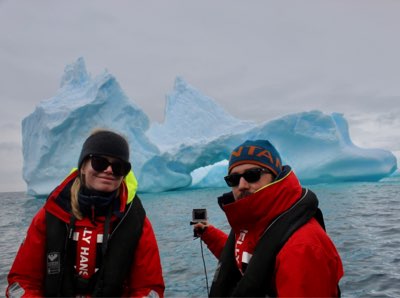 SATURDAY 8TH JANUARY 2022

Author: CATHY MUMMERY
Every day is better than the one before. Today we sailed through the Graham Passage and past the shipwreck of an 100 year old rusting whaling ship.
Then through the beautiful Wilhelmina channel full of icebergs and stunning views. We arrived at Orne Harbour and not only did we walk on mainland Antarctica for the first time, we also did our first polar plunge!!! None of us lasted more than a minute but we did all plunge … no paddling for any of us (air temp was 2.5 and water temp 0.1degC). Then to warm up we climbed up 100 meters to see some Chinstrap penguins.
And finally, after dinner, we arrived at Cuverville Island where we spent a wonderful hour amongst the Gentoo Penguins.

Remember to watch Sam and Alex on Countryfile on BBC on the 9th of January.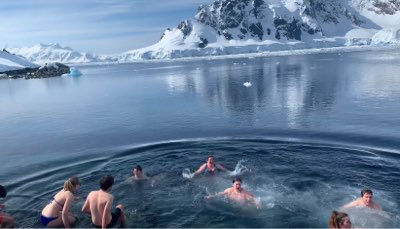 SUNDAY 9TH JANUARY 2022

Author: HELEN SMITH
Very chilled day for us all which has been nice to relax. Darcey has been doing watercolours. Helen and Cathy have made a start on knitting their penguins. Everyone has been climbing the rigging and nets today to get better views of the ice sheet.

No landing today as we are currently stuck in the ice but that's part of the adventure!

Minimal wildlife but some seals on the icebergs which made a change as we have not seen many yet!
The evening was fantastic!! The crew put on a BBQ with fresh meat and salad. Music was playing and there was some dancing, morale very high and we all had a fabulous time!
How many people can say they have had a BBQ whilst stuck in the ice?!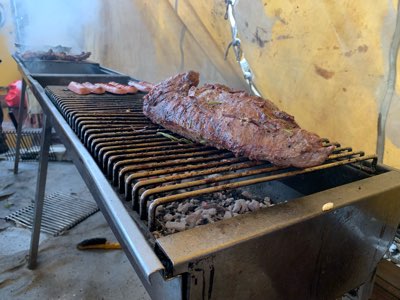 MONDAY 10TH JANUARY 2022

Author: LUCY MORGAN
This morning is the furthest south we have been so far (and we are the furthest south of any cruise ship currently in Antarctica)! After spending the night floating anchor-less in a sea of icebergs we awoke to a world of purple, grey and white. It was deadly silent and eerie like another planet.

This morning's activity included a zodiac cruise around the bay during which we got up close to seals lounging on the ice and some of us were able to step foot onto an iceberg.

This afternoon we landed at Yalour Island to observe our first Adélie colony. We also observed the circle of life during an encounter with a skua and baby penguin.

This evening was more krill fishing with the Nansen net followed by a sing-along with the onboard guitar.
TUESDAY 11TH JANUARY 2022

Author: ALAN NOAKE
A day of ice trekking and iceberg exploration with two trips out in the Zodiacs. The trek included climbing up to a memorial cairn to the Francais expedition and up close to more Gentoo penguins.
The second session was amongst some spectacular icebergs included spotting a Minke Whale, a crabeater seal and two rarer to spot leopard seals.
George also managed to photograph six icebergs for his 3D iceberg simulation project.
We finished the day sailing through the dramatic Lemaire Channel with towering mountains either side – incredible scenery!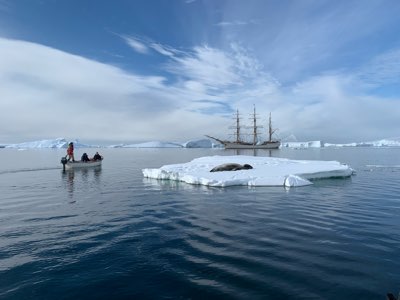 WEDNESDAY 12TH JANUARY 2022

Author: ALAN NOAKE
We made it to Port Lockroy!
Visiting Port Lockroy base was always a REQUEST2021 project dream. At times it has been touch and go about whether it would be possible. The team were able to visit the museum, see the Gentoo penguin colony, get some great team photos and videos.
In the afternoon we trekked through deep snow up and around the Damoy Hut. That was also an interesting visit and laid out so that you could see the equipment, food and items from a bygone age. Both huts today are looked after by the UK Antarctic Heritage Trust.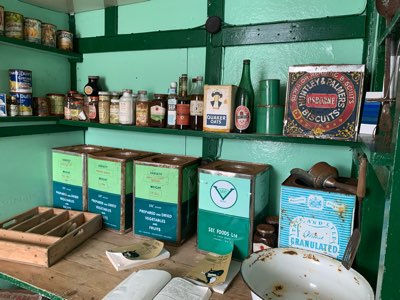 THURSDAY 13TH JANUARY 2022

Author: ALEX MACIVER
Today is our last day not just setting foot on the continent but our last day in Antarctica!
We began with a Zodiac tour around Paradise Bay observing the glaciers glowing blue and looking at the path it carved down the mountain onto the water. The water was just like a mirror holding a crisp reflection of the mountains.
We then cruised in the Zodiacs back towards the Bark Europa when we spotted a nest of Blue-eyed Shags and their chicks pestering for food (kind of like us scouts). After a lunch of stuffing my face, we cruised towards our final landing in Antarctica… last time to catch that all too familiar aroma, given by a Gentoo colony, of penguin poo.
As we hopped out of the boats, we split into two groups: one that could endure the potent smell of the penguins and the other that wanted to spend the afternoon hiking up a mountain. I was in the second group and got to stare at one last truly awesome view containing the monolithic mountains, gorgeous glaciers and the Bark Europa however the most stunning part was the sounds; the sound of ice crashing down into the sea and the sound of the penguins going about their day. On our way back down the mountain we decided to end the day with a bang and enjoy a final sliding in the snow (and running back up the hill to go again).
Now we are embarking on our voyage home through the Drake which we hope will be nice and smooth but expecting otherwise!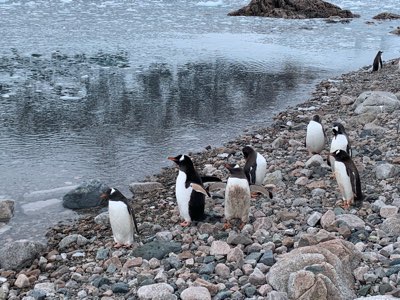 FRIDAY 14TH JANUARY 2022

Author: ALAN NOAKE
Back on the watch system today and crossing the Drake. We have two of the team on look out and two on the helm whilst the rest of the watch members waiting in the deckhouse.
Bark Europa has done some under sail and some under engine depending on the wind. The weather is currently sleety, snowy and there's a cold wind alongside the fairly choppy seas.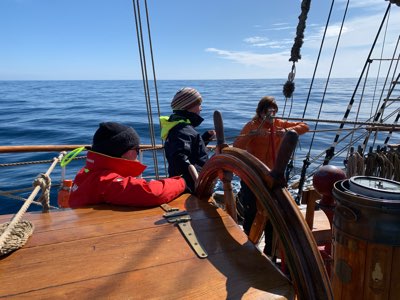 SATURDAY 15TH JANUARY 2022

Author: ALAN NOAKE
It's a short blog today… All ten of the team on Drake Passage watch duties! So we have a collection of photos of the team doing their thing!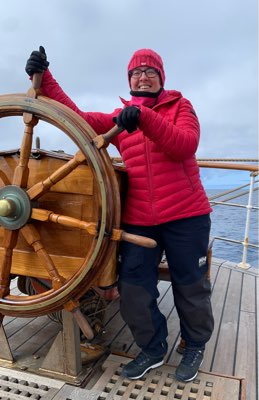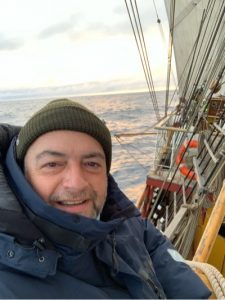 Note: Sadly, our iRidium Satellite account ran out today. So text updates only from this ship email system until we reach end of voyage!
MONDAY 17TH JANUARY 2022

Author: MATTHEW WOOD
We are now well on the way back across the Drake Passage heading back to Ushuaia.
The ocean passage watch system has been back in force since 04:00 on the 14th and the team is into the swing of sleeping at odd times so that there is always someone on watch. The voyage crew is split into red, white, and blue watches and which are rotated as follows:

04:00 – 08:00
08:00 – 12:00
12:00 – 14:00
14:00 – 16:00
16:00 – 20:00
20:00 – 00:00
00:00 – 04:00

The two short watches in the afternoon mean that the watches rotate so everyone sees all times of the day, and there is not one watch who gets the short straw of the middle of the night every time.

The Europa team has been putting on talks for those not on watch or asleep on a variety of subjects including sail handling, the history of whaling, the geology of Antarctica, how to use a sextant, the race to the South Pole between Scott and Amundsen.

At midday on the 16th Sam successfully launched a second Argo float, after confirming with Argo HQ that it was worthwhile doing so so close to the location of the previous one.

We are now heading due North at around 8 knots, and have less than 100 miles to go to Cape Horn.
YOU CAN ALSO TRACK THE CURRENT LOCATION OF THE TEAM'S EXPEDITION SHIP LIVE ON THE FOLLOWING LINK: