Category:
Home Activities
PRESS RELEASE – SCOUTS CLIMATE QUEST EVENT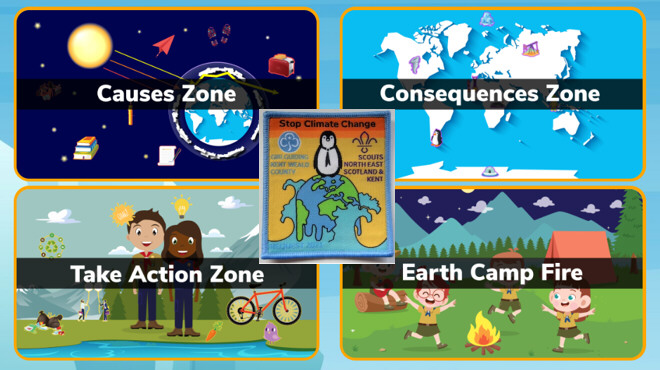 Held over the weekend of Saturday 25th and Sunday 26th July 2020 Climate Quest was a virtual event hosted by Sevenoaks District in partnership with the Kent Scouts ReQuest2021 Antarctic Research Project.
One of the key themes of the main Kent Scouts ReQuest2021 Antarctica project mission is Environment. Antarctica is a living environmental laboratory for Climate Change and Antarctic Wildlife. Climate Quest was put together to engage young people in these important issues.
To earn their Climate Quest Badge participants had to complete a minimum of 2 activities from each of the three different zones – Causes, Consequences and Take Action.
Around 300 people registered for the event and orders have been placed for somewhere in the region of 200 badges already! The activities are still available for other to take part in due course.
All the feedback and response from the participants and parents has been phenomenal…
"Thank you. We have had a great time and really enjoyed the tasks. Lots of chatting about the environment with a 5yr old and 10yr old!"
"Such a great weekend full of fun and interesting activities, thank you Kent Scouts. Alex and Charlotte from 1st New Barn Cubs and Beavers."
"My boys Harrison & Finlay from Larkfield 1st with most of their completed challenges from this Climate Quest Weekend. Thanks so much for all the organising. It was utterly brilliant."
"Isla, 2nd Radipole Guides, and Oli, Weymouth South Scouts, have enjoyed taking part in the Climate Quest this weekend. Thank you so much for running the event and organising such fantastic activities."
"I would just like to say a BIG THANK YOU to all the team at Climate Quest. William from 10th Fareham Cubs, Hampshire has had a fab weekend of activities learning lots of things about global warming, recycling. He has loved every minute of it."
"Bird feeders made, extreme weather report and macaroni cheese made for dinner. Oliver has had a great weekend doing the activities. Thank you to everyone involved."
During the weekend the number of followers on the ReQuest2021 Facebook page reached over 500 https://www.facebook.com/groups/ReQuest2021
For more information about Climate Quest and the Research2021 project contact info@request2021.org.uk or visit www.ReQuest2021.org.uk                 [NUMBER OF WORDS: 367]