Category:
Team
PRESS RELEASE – KENT SCOUTS COMPLETE SUCCESSFUL ANTARCTIC VOYAGE DURING JANUARY 2022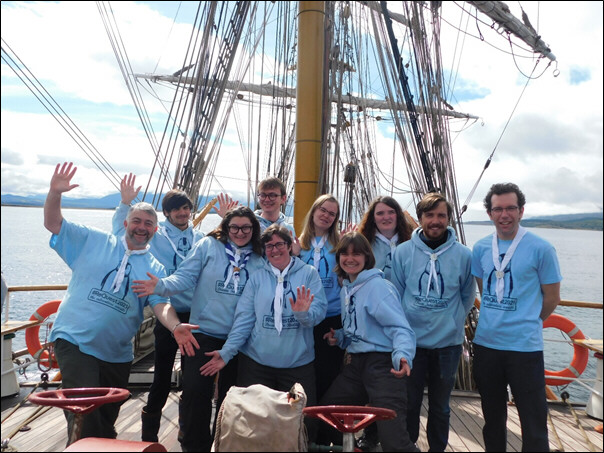 After 20 days at sea the ten strong team of Kent Scouts make their way back up the Beagle Channel to Ushuaia, Argentina.
The team have twice crossed the infamous Drake Passage and have been exploring the waters and islands of the Antarctic Peninsula during January 2022.
All members of the team have played an active part in sailing the Bark Europa tall ship – taking the helm, helping set sails, climbing rigging and doing lookout duty.
Alan Noake REQUEST2021 Project leader, said:
"We have successfully achieved all our objectives for the voyage including taking up a last-minute opportunity to visit Port Lockroy which was established by Scout Marr during Operation Tabarin in World War Two. There is just some work to do on our other project objectives now upon our return the UK – outreach to young people, developing the legacy fund and taking the commemorative plaque to Scotland."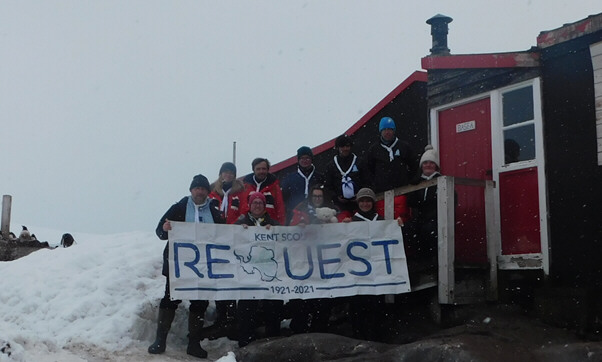 The ReQuest2021 project is a wider programme of activity centred around the expedition to Antarctica to commemorate the Shackleton-Rowett Expedition of 1921-1922. 100 years after Sir Ernest Shackleton's ship Quest sailed to Antarctica a ten strong team of Scouts and leaders were recreating the original ethos of the expedition by undertaking their own voyage to the frozen south. The ten participants have been undertaking research projects whilst in Antarctica on issues such as climate change, energy, exploration, education, health and the environment. Findings will be presented in a range of engaging formats including photography, soundscapes, reports, artwork and interactive forums.
Bear Grylls, Chief Scout, sent the team off on their expedition with these encouraging words:
"You are truly following in the footsteps of many legends including the great Sir Ernest Shackleton who set off on his Quest expedition. You are also doing vital work in how we can protect the world around us, which is so important."
The team are now enjoying a few days relaxation and reflection time in Buenos Aries before heading home to the UK.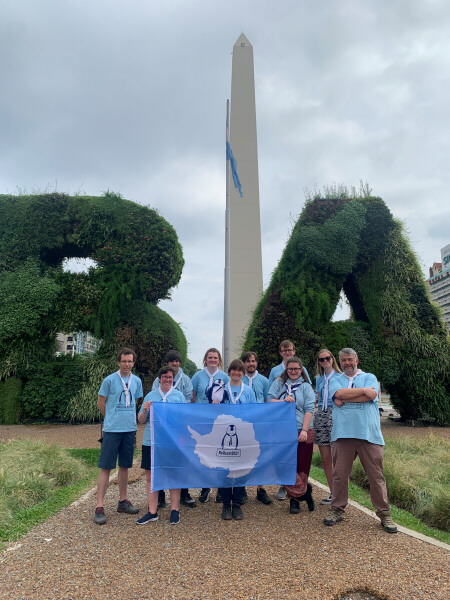 The Shackleton-Rowett Expedition of 1921-1922 included two Scouts: James Marr and Norman Mooney. On 30th December 2021 the team of ten scouts and their leaders will follow in Marr and Mooney's footsteps and depart from South America for Antarctica.
The project is based upon three key principles: –

1. PEACE – Young people will form relationships with each other, their communities, other
Scouts around the world, and their environment.
2. ENVIRONMENT – Young people are more concerned about nature than ever and want to protect our environment – one study found that 60% of young people are worried or extremely worried about climate change.
3. HERITAGE – A way for young people to connect with intrepid explorers from the past, through an innovative programme of events, and mark those who went before.
For more information, please contact alan.noake@kentscouts.org.uk 07525 633435 ENDS
Notes to Editor:
About the Project
For more information about the ReQuest2021 expedition and the research projects, please visit http://www.request2021.org.uk
The ReQuest2021, Antarctic Research Project Team sailed on board Bark Europa tall ship from Ushuaia, Argentina to the Antarctic Peninsula from 30th Dec 2021 to 20th January 2022.
Over the past four years the ten Scouts have undertaken fundraising activities including a rowing challenge, grand auction and online merchandise sales to raise £140,000 for the expedition.
A key sponsor of the Request expedition is the East and West Kent Freemasons which have the same core values of supporting young people www.eastkentfreemasons.org and www.westkentmasons.org.uk
Individual Projects: CLIMATE CHANGE (LUCY), PHYSIOLOGICAL EXPERIMENT (GENEVIEVE), 3D ICEBERG SIMULATION (GEORGE), COLLABORATIVE ARTWORK (DARCEY), OCEAN CURRENTS (SAM), ANTARCTIC SOUNDSCAPE (ALAN), MOTION SICKNESS STUDY (CATHY), PLASTIC POLUTION (HELEN), ELECTRICITY GENERATION (MATT), GEOMAGNETICALLY INDUCED CURRENTS (ALEX)
Group Project: THE ANTARCTICA SCOUT KRILL project. Partnership with British Antarctic Survey to study and raise awareness of the importance of Antarctic krill to the Southern Ocean ecosystem.
EXPEDITION PARTICIPANT NAMES AND LOCATIONS THEY ARE FROM: –

Alan Noake, Deal, Walmer, Sandwich & District Kent

Cathy Mummery, Weald District, Kent

Matt Wood, Malling District, Kent

Helen Smith, Gravesham District, Kent

Lucy Morgan, Sevenoaks District, Kent

Genevieve Scullion, Deal, Walmer, Sandwich & District, Kent

George Stonor, Faversham District, Kent

Darcey Holmes, Thanet District, Kent

Sam Payne, Inverurie, Aberdeenshire, Scotland

Alex Maciver, Aberfeldy, Perthshire, Scotland
About Scouts:
All genders, races and backgrounds are welcome at Scouts. Every week, it gives almost half a million people aged 6-25 the skills they need for school, college, university, the job interview, the important speech, the tricky challenge and the big dreams: the skills they need for life.  
Scouts helps members gain these skills by encouraging them to ask the big questions and listen with wide open minds. It helps them to take a deep breath and speak up, think on their feet, ignore the butterflies and go for it. With Scouts, young people don't give up – they get back up and try again, often with the support of the friends they've made there.  
Our volunteers contribute more than 50 million hours of voluntary work each year to their local communities.