Month:
May 2021
ReQuest2021 Objectives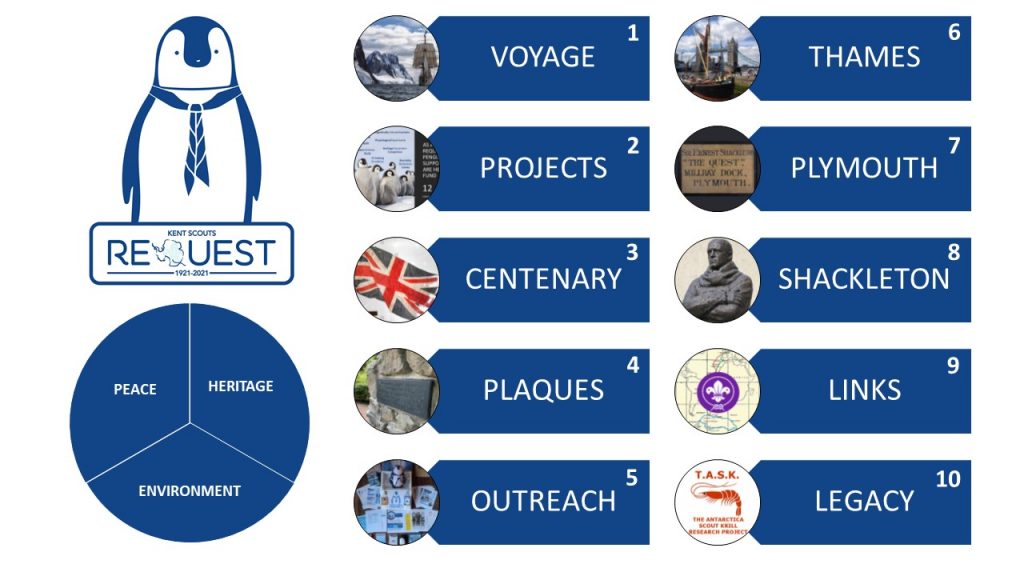 Exactly 100 years after two Scouts sailed on Shackleton's final Quest Expedition the project's objectives are as follows: –
VOYAGE – Participate as members of the crew on the Bark Europa on a voyage to Antarctica. (Peace, Environment, Heritage)
PROJECTS – Undertake personal projects with each team member presenting their results. (Peace, Environment, Heritage)
CENTENARY – Hold centenary flag ceremonies in both the UK and Antarctica (Heritage)
PLAQUES – Unveil commemorative plaques to Scouts Marr & Mooney in England & Scotland. (Heritage)
OUTREACH – Involve young people in a series of fun and educational outreach activities. (Peace, Environment, Heritage)
THAMES – Host a pre-expedition PR event at Tower Bridge on Friday 17th September 2021. (Heritage)
PLYMOUTH – Participate in the Devon and Cornwall Polar Society centenary event in Plymouth. (Heritage)
SHACKLETON – Celebrate and pay respects to the achievements of Sir Ernest Shackleton. (Peace, Heritage)
LINKS – Build strong links with Scouts in other countries on the original expedition route. (Peace, Heritage)
LEGACY – Leave a lasting Scouting polar research legacy inspired by Scout Marr's work on Krill. (Environment)
OUR FIRST EMPEROR PENGUIN SPONSOR
PRESS RELEASE – For immediate release
EAST & WEST KENT FREEMASONS BECOME OUR FIRST EMPEROR PENGUIN SPONSOR
The ReQuest2021 project is delighted that the Freemasons of East & West Kent have donated £5,000 to become our first Emperor Penguin Sponsor.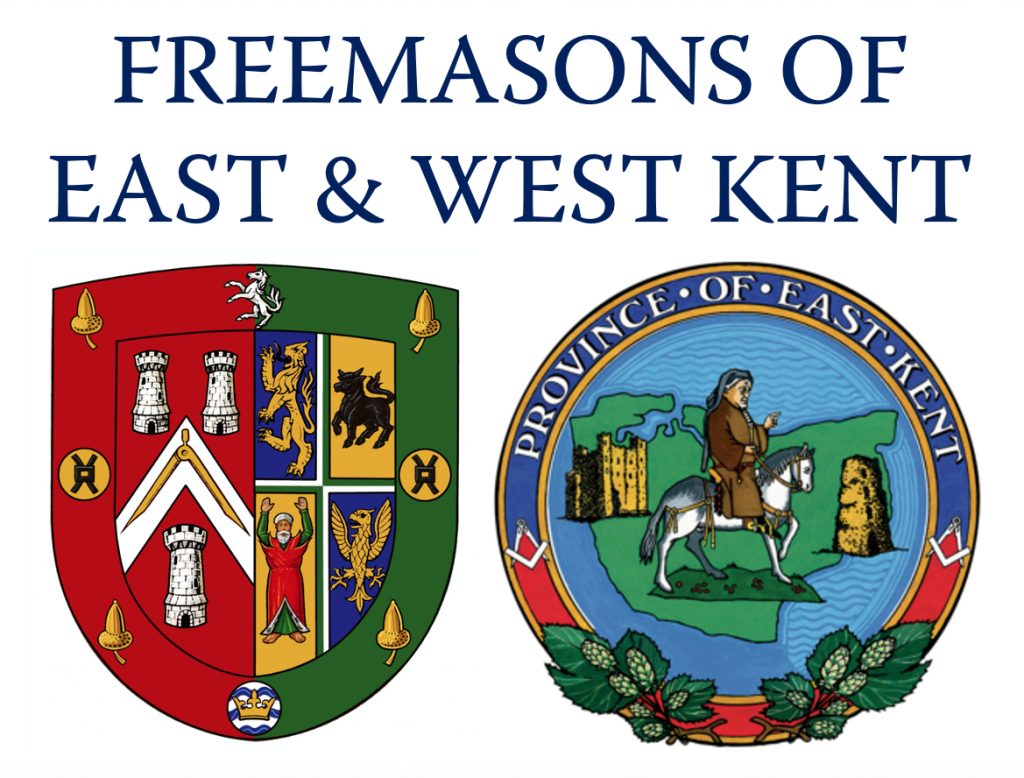 Sir Ernest Shackleton himself was a Freemason, a member of Navy Lodge. Sharing the same values as Scouting, Freemasonry provides a framework for personal development and service to others. Although not a Freemason, Baden-Powell recognised the parallels with Scouting. He wrote, "Our [ie, the Scouts] principles are closely allied with those of the Freemason, being those of Brotherhood and Service."
Tony Harvey, a Kent Queen's Scout and Freemason, said, "This is another example of collaboration between our two great organisations, one which will have a lasting impact on the lives of so many young people."
Tony is providing the expedition's Union Flag. He explains, "Freemasons provided the flagpole on B-P's campsite on Brownsea Island and I replace the flag every year. So, I am delighted to gift to the expedition a Union Flag that for one year flew over B-P's campsite."
To find out about Freemasonry in East Kent visit https://eastkentfreemasons.org/ and in West Kent visit https://westkentmasons.org.uk/.
[180 words]
ReQuest2021 Podcast Ep. 19
Podcast: Play in new window | Download
Subscribe: RSS
EPISODE 19 – Sat 1st May 2021 – This episode there is some recording of when I went out and about around Kent delivering our Antarctica In An Icebox resources; plus a few bits recorded on our sponsored Row-A-Thon launch whilst at the James Caird hall at Dulwich College; and then there is the ReQuest interview with Vanessa O'Brien. Vanessa is a British mountaineer and an American mountaineer (because of her dual nationality), explorer, aquanaut, author, and public speaker. Her achievements are extensive. Vanessa is the First Woman to Reach Earth's Highest and Lowest Points, a Guinness World Record for summiting Mt. Everest (8,848m) in 2012 and diving in a submersible to the eastern pool of Challenger Deep (10,925m) in 2020. Vanessa became the first American woman to summit K2 and the first British woman to successfully summit K2 (because of her dual nationality) on 28 July 2017 and received the SES Explorer of the Year in 2018 for her efforts. Vanessa proudly raised the UN Women's Flag at the summit of K2 to show the power of women's courage and determination. Vanessa received a Guinness World Record for summiting the Seven Summits (including Mount Vinson in Antarctica) in 295 days, the fastest time a woman first achieved this goal.  She has also skied the Last Degree to the North and South poles, completing the Explorers Grand Slam in 11 months.
A podcast documenting the Kent Scouts #ReQuest2021 Research Project all the way to Antarctica and back again! Interviews, Scouting historical links, events and research project work recorded along the way. Part of Alan Noake's Antarctic Soundscapes project.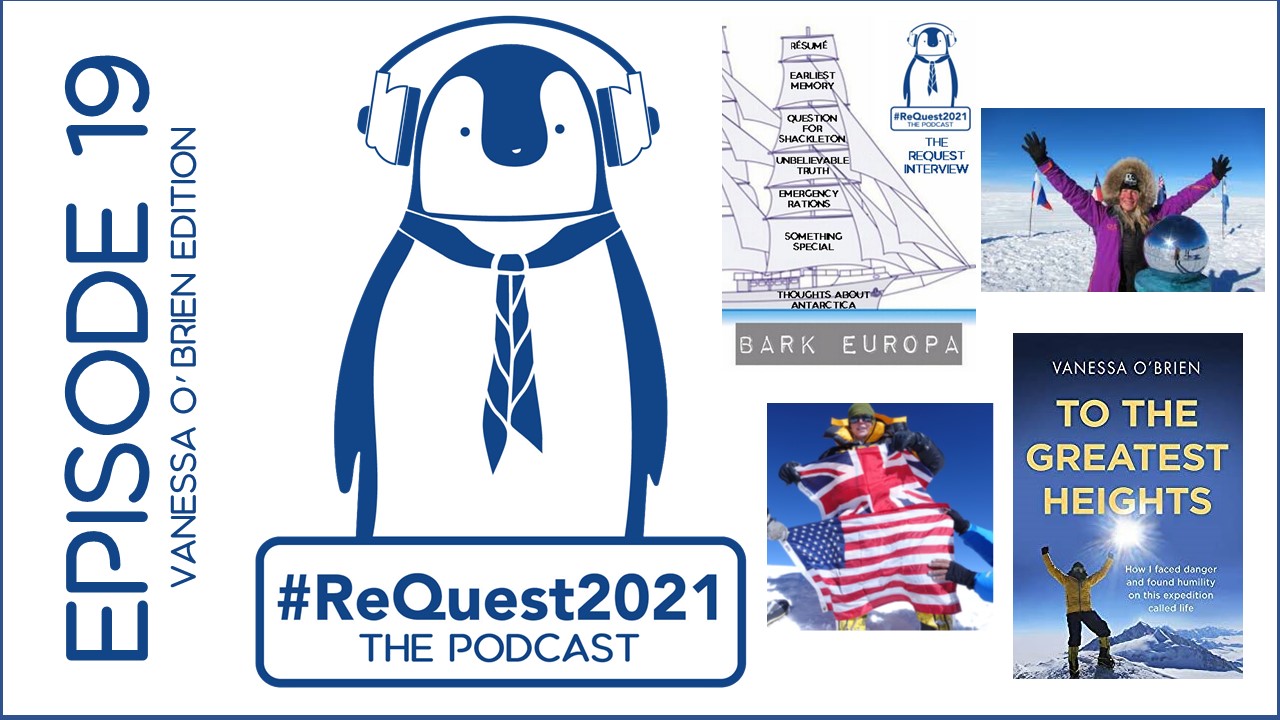 Show Notes
Vanessa O'Brien's Website:
http://www.vobonline.com

Vanessa O'Brien's Wikipedia Page:
https://en.wikipedia.org/wiki/Vanessa_O%27Brien
To the Greatest Heights – Vanessa O'Brien
http://www.tothegreatestheights.com
Mount Vinson – the tallest mountain in Antarctica
https://www.nationalgeographic.org/encyclopedia/mount-vinson
Lots of Different Ways to Follow and Support The Project including our penguin badges, Antarctic Top Trumps and other merchandise…
www.fundraisingladder.co.uk/ReQuest2021