Young Britain Magazine – Scouts of the Quest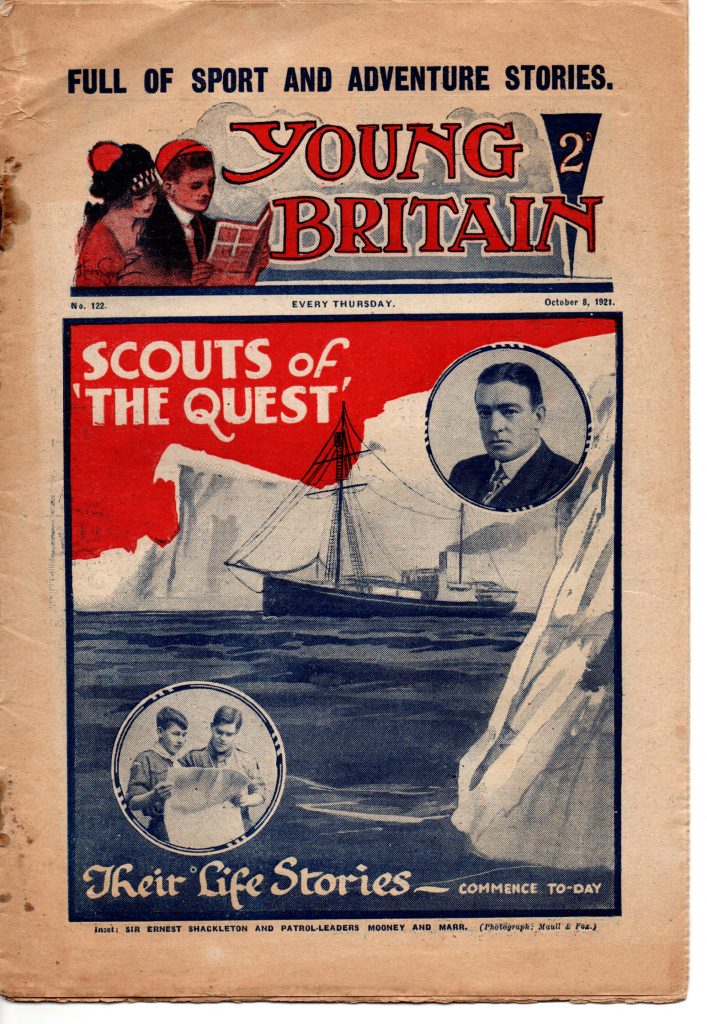 EARLY DAYS
By Patrol-Leader Marr.
In my own opinion, I am just about the luckiest chap that ever put on a Scout's scarf. Even now I can hardly realise that it is not all a dream, and that I shall not wake up with a sudden jerk and find myself back in bed in my own little room.
I little thought, when at the age of ten, way back in 1912, I first proudly donned my Scout kit, and began to "swot up" the Scout Law, that it was the first step towards obtaining the ambition of my life – ay, and almost more than that!
I think it was in those early days-when scouting and I were both very young – that I first heard the great call to other lands, and to distant climes. But there is nothing wonderful in that: I think all boys, at some time or other, long for a chance of travelling over the world and seeing the lands which heroes of the past have opened up for us.
Our meetings every Saturday afternoon were a great fascination to me. Apart from all the fun that is obtained by being among a splendid crowd of boys, I found other huge attractions in Scouting. The Scout Law of ours seems to put a fresher and greener appearance on everything. Like every other boy, I wanted to be a sportsman and learn to play the game – I found that the Scout Law taught me that.
Now and again our Scoutmaster would read "Camp Fire Yarns" to us from the Chief Scout's wonderful book "Scouting for Boys." These stories from Nature, of the open-air life, and of the adventures of heroes of the past, would hold me as nothing ever before held me. I would return to my home with my head alive with pictures of the men who have made Britain what she is – the very streets would seem to lose their dreary aspect, and I would see before me rolling seas, the open prairie, desert islands, just as my mind flitted from one hero's adventures to another.
Then would come a great longing – a desire to be away on the sea, and over strange lands. Perhaps in those days I saw myself dressed as a bold, bad pirate, or as a cowboy, or an Indian chief. Perhaps even a sailor's kit entered my mind, but never once did I dream of a Scout kit and a voyage with Shackleton into Southern water – that was beyond all imagination.
In those days I loved my adventure books. I would slip away into a corner of the room, or nestle close to the fire and busy myself in my favourite R.M. Ballantyne stories.
Little did I dream in those young days that Scouting was going to open up for me this great opportunity of travelling over the ground my heroes of fiction had made so dear to me. I little guessed, when I revelled in my early Scout life, and learnt of the men who made history for the world – of the early Antarctic expeditions – Dr. Cook, in 1772-5, and of Wilkes, and Ross, and the voyage of the Challenger, and the great heroisms of Captain Scott and his gallant party – I little dreamt that my Scout Badge would one day carry me in these heroes' footsteps, and would show me the wonders of the world in true life, and not merely in imagination.
Ever since that great day when I first heard that I was to go as cabin by, along with Patrol-Leader Mooney, on the Quest, I have been overwhelmed with tip-top letters from every corner of the British Isles. I have had far, far too many to answer yet awhile. Everybody has been so kind to me: if well-wishes count for anything, I've got nothing to worry about for the future.
Many of you have asked me to write to you during my journey. I will do my best, but can promise nothing. Remember I am a cabin-boy, and aboard the Quest my work comes first I mean to try and prove to Sir Ernest that he went to the right place when he asked for a Boy Scout for the job; whatever I do, I must not let you brother Scouts down, and I don't intend to, if I can help it.
The real and true brother hood among Scouts throughout the world has deeply impressed me. I have been a Scout for over nine years, and much as I have valued our universal comradeship during that time, I did not credit it was so huge and wonderful as it is. That truth has been well brought home to me by the welcome, sporting spirit in which all Scouts have taken my great piece of luck.
I am sure that hundreds of Scouts must have longed, just as eagerly as I did, that the good luck of being the chosen Scout would come their way. I can imagine just how disappointed they must have felt, yet, true to their Scout Law, they have overcome their personal feelings, and many, many of them have sent me rattling fine letters and good wishes brimming with the true Scout spirit – the spirit tat has made our wonderful world-wide brotherhood.
And amongst those letters there are some I value as dearly as I value anything I possess in the world. They are from the boys who were among the first ten Sir Ernest selected. What a terrible disappointment it must have been, after getting so near, one of the ten chosen from all our huge brotherhood – so very near the greatest opportunity that has ever been offered to boys since the world began, and then, at the eleventh hour, to be faced with what must have been the biggest disappointment of their lives – and so great is our Scout spirit in these splendid chaps that they are able to return to their home and write and congratulate me – the lucky one.
During the many hours I was at Imperial Headquarters with these chaps, waiting to hear our fate, I felt that I was among the finest boys that had ever been born.
Sir Ernest Shackleton had one of the most difficult tasks of his wonderful career that day. Had the Quest been large enough, he would gladly have taken the whole ten on her voyage of exploration – that I am sure. Circumstances made it necessary for him to disappoint nine boys that day, and the job made Sir Ernest a worried and sad man.
His task was an unenviable one – especially to such a generous-hearted man as he – and he made the blow as light as possible by choosing two of us for the great trip instead of one, as he had intended. He told us himself that the qualifications were so equal that the task of selecting one from ten, on merit, was practically impossible. Somebody had to be chosen, and Mooney and I were the lucky ones.
Yet these disappointed boys have written such splendid letters to me! What perfect, true sportsmanship! I mean to number those eight boys among the greatest friends of my life. It is an honour to have such friends as these!
Of course, going on a trip like this means breaking away from many daily occurrences which we do not know the true value of until we are separated from them.
A trip of the nature I am upon means a worrying time for my parents; yet they fully realise what a wonderful experience it is for me, and that I am under the leadership of one of the "whitest men" that ever breathed. This is a great consolation to them.
Again, after nine years in the 1st Aberdeen Troop, I have made many friends, and the thoughts of the jolly camps and evenings I have spent with them will not easily be forgotten. Nor do I wish them to be!
The 1st Aberdeen Troop is the troop connected with my early school – the Grammar School – and I have known many of its members all my life.
Gave Their Lives For Us!
All my seven brothers have been Scouts during their school days at the good old Grammar School, and my present Scoutmaster was a Scout with me at many of the jolly camps we had. He and my eldest brother were patrol leaders together in my "tender-foot" days.
It was a splendid troop in those days – as it is now – and I am still in touch with a large number of the Scouts who were the pioneers of the "great old 1st Aberdeens." Like many other troops, the war took a heavy toll of these fine chaps. At the earliest call to arms, these "old Scouts" went like one man. They rallied to the Colours – the Gordons saw many of them – and they have been to the fore in battles on every British front, and borne themselves so gallantly that we youngsters will never forget how the boys of the 1st Aberdeen brought glory to the troop.
These boys have carried out their Scout's promise of loyalty to God, King, and country to the very last letter – many of the cream of the troop have made the greatest of all sacrifices – they gave their lives for us – and the 1st Aberdeen are never likely to forget the example of true "Scoutsmanship" they have set to the Scouts who now proudly follow the troop's colours.
There is small wonder that the troop has always thriven and carried on as happily as a large family, for we had a Scoutmaster whom nobody could help liking. To describe the many jolly months I have spent under his command would fill books. But, later, I must tell you of a few of these good old times – especially of the greatest fortnight I ever spent in my life – our working camp at Kildrummy. But I must tell you that story another time.
All my brothers are still at the Grammar School, with one exception. Thomas, the elder to me, is on the Conway training-ship, getting ready for either the mercantile service or the Royal Navy.
Before this great chance came along I was "swotting up" for my degree of M.A. and B.Sc. Of course, this trip will make a big break in my studies; but I'm not minding that very much, as I shall not be too old to start again when I get back. My professors do not mind either, and they look with envy upon the educational value I shall derive from this scientific trip.
Oh, and by the way, there's something more I must tell you this week, I've got a most wonderful mascot in my possession, which has already been out on one South Pole Expedition. It is a bonnie sprig of white heather – now well faded, but as true a mascot as ever – and a lock of hair cut from my brother Donald's head a good few years ago.
An aunt of mine – Miss Mary Slessor, of Raicloth – sent it to a member of the Scott Expedition to the South Pole, and he carried it with him as his "luck token." It brought him home. And when it was known that I was off on a similar expedition, it was sent to me.
It brought him luck – it's going to bring me luck, because it means even more to me than it did to him. The white heather comes from my bonnie homelands, the lock of hair is from my own brother's head. These two relics are going on their second expedition south, and the brother to whom the hair belongs will be scouting with my own troop all the time I'm awa'.
A mascot that both brings luck and recalls sweet memories of home and homelands is well worth having.
J.S.W. Marr
Patrol Leader
1st Aberdeen Troop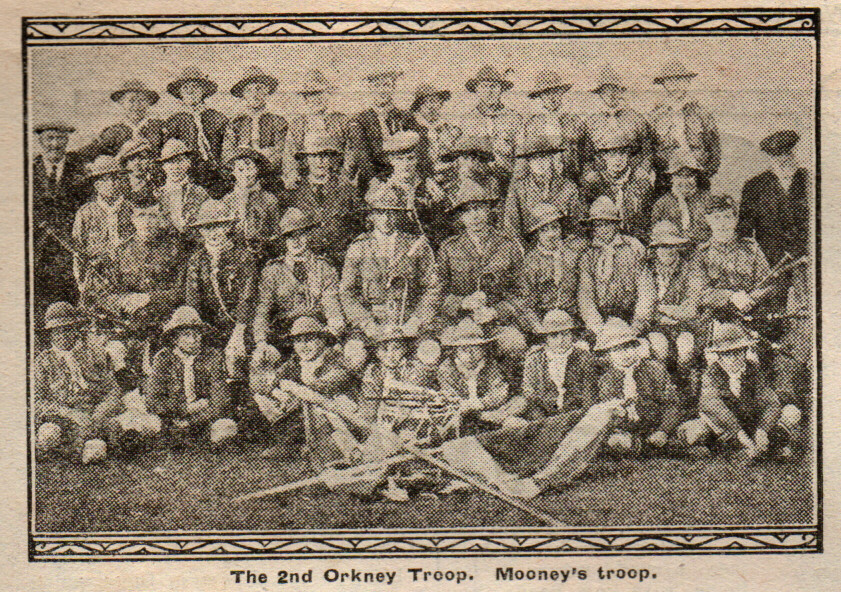 MY LIFE
By Patrol Leader Mooney
I SHALL never understand just why I was selected by Sir Ernest Shackleton to be cabin-boy with Patrol-Leader Marr on this great voyage to the Antarctic on the Quest.
When I first heard of this great offer to Scouts, I was waylaid by my Scoutmaster, Mr. Dunnett, and inquired what it was all about. I believe my actual words were. "What is this Shackleton stunt, Mr Dunnett?"
That may sound as though it didn't appeal to me greatly – believe me, it did. It is the sort of adventure I have longed for all my life – the greatest thing that could possibly come my way.
The reason I spoke carelessly on the matter was because I thought that if I applied I would not have a ghost of a chance, living as I do, so far from everything and everybody.
Half expecting a burst of laughter, I told Mr. Dunnett that I would like to have a go at it, and, like the great sportsman he is, he helped m and gave some fine recommendations.
That first trip to London, when I saw my first train, brought home to me how inexperienced I must be in comparison to the other selected nine Scouts. Imagine my delight – and amazement – when Sir Ernest Shackleton told me that I was to be one of the two luckiest Scouts in the world – that I was to go on the Quest. Oh, it will be glorious – this expedition in that wonderful little 200 "tonner," manned by the finest set of men that have ever been brought together on board a single ship. What a magnificient body of men to serve under!
Sir Ernest Shackleton – one of the bravest and most wonderful men who has ever paced a ship's deck; Commander Frank Wild, C.B.E., who has been Shackleton's right-hand man in expeditions alive with thrilling episodes since the voyage of the Nimrod in 1907. He was also with Scott on the Discovery, from 1901 to 1904, and with Nansen on the Aurora, in 1910-12. He is a man after Sir Ernest's own lion-heart, and second only to that great leader. Then there is Commander Worsley, D.S.O., and Major Macklin, M.C. – every member of the great expedition that Marr and I are going on could tell enough thrilling tales to fill books upon books.
I have followed the adventures of Artic and Antarctic explorers for as long as I can remember. They have a peculiar way fascination for me. I never grow weary of their stories of endurance, hopes, and victories against the elements.
Many and many a winter's evening have I sat with my brothers and sisters listening to my father reading to us the adventures of the heroic explorers of the past.
We people of the Orkneys – Orcadians as we proudly term ourselves – are in many ways far behind your Scouts of the busy cities. We have no tram-cars, no railways, no elaborate theatres, and until only quite recently we had no picture palaces – we had to make our own amusements.
It was not so many years ago – though I was too young to remember it – that motor-cars first came to Kirkwall. There are heaps of cars now; but many Orcadian farmers still abhor them, and get well clear of our narrow roads immediately a car appears anywhere on the horizon.
Prior to the arrival of cars, I am told that the Orcadians walked everywhere – having only their luggage conveyed by carts. For this reason the Orcadians are world-famed as walkers – they would think nothing of a seven or ten-mile walk before work in those days.
The story goes, that the Orcadian on a journey from one part of the island to another would remove his boots and stockings on getting near his home town, and would not put them on again until nearing his destination.
Kirkwall and the Orkneys may be a bit behind the times, but there is one modern invention in which she can well hold her own. The Scout Movement has been a very live thing in Kirkwall for many years now. Although railway trains are years senior to the Scout Movement – Baden Powell's great work for boys got here first – and once it got it, it stuck, hard and fast.
How proud our Chief Scout must feel of the fine work he has done for the world in giving us our Scout Movement! Jimmy Marr and I must feel especially grateful to him for it; but for him this wonderful opportunity would never have come our way.
I shall never allow myself to forget that it is because of the fine work of the Scouts as a whole that this trip has come to me – that I have to thank every Scout in our Great Movement for earning such a name for themselves, that Sir Ernest, when in search of cabin-boy for the Quest, turns straightaway to our great brotherhood. It means that the Scouts of the world have won a fine name for themselves during their short life of twelve years.
I first joined the Kirkwall Scouts in June, 1915. I believe my only reason for joining was because a great chum of mine became a Wolf Cub. What he did I always did, and vice versa. So I became a Wolf Cub, too. That was the only reason why I joined, as far as I can remember. I knew nothing that could especially appeal to me.
Now I realise that it is the finest life in the world for boys, and that the whole turning-point of my life was that night when I became a Wolf-Cub in the 2nd Orkney Troop, and started "Scouting" towards obtaining the ambition of my life.
Scouting has given me the great chance of making myself. If I fail – and I don't intend to – it is my own fault. If I Succeed, however successful I may prove, I have something I must always bear in mind – my success is all because as a youngster I joined the Wolf Cubs and the Boy Scouts.
I don't think I have missed a single parade of the 2nd Orkney's that was at all possible to attend, from the day when I joined the Wolf Cubs. I am not boasting – the reason I wen to all the meetings was because I was in a rattling good troop, under a splendid Scoutmaster, and I used to enjoy every one of those troop parades.
At a Loose End
And because of enjoying myself like that, I am to go on this wonderful trip on the Quest! I cannot understand why there is a single boy living who is not a Scout. They cannot know what Scouting holds for them – or else they don't want a real, sporting life brimmed full of good fun and fine companionship.
I often think of all that my father has done for me, even to allowing me to go on this trip "further South." He was dead against it at first; but he must have realised how I had set my heart upon it, and now, like the true Orcadian he is, I believe he is as keen on it as I am myself.
I think that is the kindest way I can describe my dear old dad – he is a true Orcadian – generous, kind‑hearted, and patriotic, and he has brought me up to glory in my island home – as all Orcadians do.
I feel, too, that I am the most suited of his three sons for this trip – my elder brother, Rognvald, and my younger brother, Harald, have both great futures before them. They love their studies, and intend pursuing them. Rognvald was on this year's Edinburgh University bursary list, whilst my young brother, Harald, promises to outshine us all.
I had just obtained my leaving certificate at Kirkwall Secondary School, but I did not wish to continue my studies. I hardly knew what I really wanted to do until I heard of Shackleton's great offer. Then I knew all right – it all seems to good to be true! But it is true! And here I am – a member of the Quest – bound for Southern waters!
It is interesting to note that I am a long way from being the first Orcadian to be on a Polar Expedition. There have in fact, been innumerable Orcadians in the past. The Orkneys might well boast the title of the "home of the first explorers."
Many an evening have I sat around the peat fire at home and listened eagerly to my father telling the wonderful stories of explorations as far back as the days when Vikings and Norsemen frist braved the ice-bound North.
Compare their wooden galleys with the fine little Quest with her specially constructed Avro seaplane for scouting duty, her comfortable cabins, her engines, and her stout oak sides, strengthened by iron. What sturdy hearts of gold these grand old Vikings must have had to face such perils so unarmed!
In those days it must have needed strong courage to face the sea at all. Yet our noble predecessors were all seamen, and our islands won the name of the "Land of a thousand sea-kings' graves."
Perhaps I may be pardoned a little pride when I remember that some of the blood in my veins is descended from these great men of the good old days. For am I not an Orcadian, born and bred?
In the Days of the Vikings
Besides those wonderful explorations and expeditions of the Vikings, two Orkney earls made voyages from my homelands through the Mediterranean and visited Jerusalem on different occasions, way back in the twelfth century.
Again, Orkneymen accompanied Franklin in his earlier expedition, and in his last sad voyage two of our islanders perished with this great explorer.
Dr. John Rae, the famous Arctic explorer, who first brought authentic information of the fate of Sir John Franklin's last expedition, was an Orcadian, and his home lies not so far from Kirkwall.
It was whilst Rae was in the Artic Regions that the British Government offered a reward of £10,000 for the first reliable intelligence of what had happened to Franklin and his men. When he returned to civilisation, he found that he was the winner of this great sum!
The only white men who accompanied Rae on this perilous voyage were natives of his island homelands. He said before his journey that he had implicit confidence in the fitness of the Orkneymen to meet dangers and endure hardship, and they did not fail him!
And there are many, many other tales of Orkney explorers – tales as full of interest and excitement that would stir the dullest imagination in the world. There are stories of Vikings and Norsemen even now being told round the peat fires, and also newer tales than these will frequently be heard.
Many of the gallant company of adventurers who faced unknown hardships in the original Hudson Bay Expedition were Orkneymen, and stories of their hardship, bravery, and endurance will ever remain green in the Orkney homesteads.
Is there any wonder, then, living as I do in the middle of such associations, that my imagination has been stirred with a great longing to travel and see the world? I think it is the same with all Orkney boys – they have that Norse, roving blood in their veins. They have been brought up where stories of rave men have served in the place of theatres, and they have learnt to proudly boast the title of Britishers, and have the desire in their hearts and minds to get out into the world – never forgetting that they are Orcadians!
I expect many of you have read that wonderful book "Nansen's Farther North." It is a glorious book, telling of such magnificent men, and their hardships for the sake of furthering the world's knowledge of the unknown lands around the North Pole.
Nansen's Dedication
Those few lines on the first page of the book I have always thought so simple and yet so wonderful: "To her who christened the ship and had the courage to wait!"
What a fine dedication to a book of a glorious expedition!
In those days, when explorations held a hundredfold more perils than they do today, what a terrible time it must have been waiting at home without news for months on end! Wireless telegraphy has altered all that now.
But in my enthusiasm and zeal in the future that lies before me I have wandered away from all the things I wanted to tell you about – the glorious times I have had during my six years as a Scout. I want to tell you of some of the camps I have been to.
I will do that next week. You will be interested to know how we carry on our Scouting away in the Orkneys, and I shall love telling you, as by then I shall be sailing away from my homelands, and it will recall happy memories of those good old days.
Norman E. Mooney
Patrol Leader
2nd Orkneys