Category: Home Activities
PRESS RELEASE – SCOUTS CLIMATE QUEST EVENT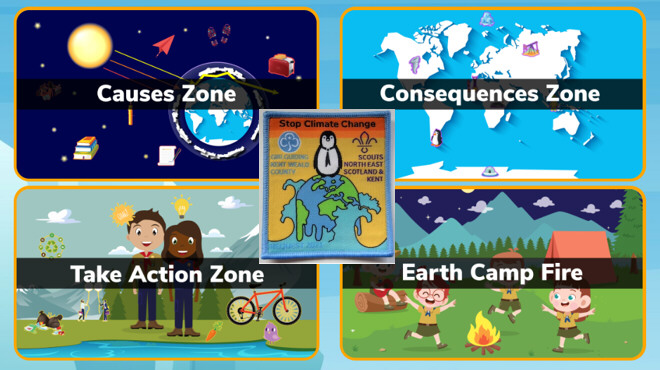 Held over the weekend of Saturday 25th and Sunday 26th July 2020 Climate Quest was a virtual event hosted by Sevenoaks District in partnership with the Kent Scouts ReQuest2021 Antarctic Research Project.
One of the key themes of the main Kent Scouts ReQuest2021 Antarctica project mission is Environment. Antarctica is a living environmental laboratory for Climate Change and Antarctic Wildlife. Climate Quest was put together to engage young people in these important issues.
To earn their Climate Quest Badge participants had to complete a minimum of 2 activities from each of the three different zones – Causes, Consequences and Take Action.
Around 300 people registered for the event and orders have been placed for somewhere in the region of 200 badges already! The activities are still available for other to take part in due course.
All the feedback and response from the participants and parents has been phenomenal…
"Thank you. We have had a great time and really enjoyed the tasks. Lots of chatting about the environment with a 5yr old and 10yr old!"
"Such a great weekend full of fun and interesting activities, thank you Kent Scouts. Alex and Charlotte from 1st New Barn Cubs and Beavers."
"My boys Harrison & Finlay from Larkfield 1st with most of their completed challenges from this Climate Quest Weekend. Thanks so much for all the organising. It was utterly brilliant."
"Isla, 2nd Radipole Guides, and Oli, Weymouth South Scouts, have enjoyed taking part in the Climate Quest this weekend. Thank you so much for running the event and organising such fantastic activities."
"I would just like to say a BIG THANK YOU to all the team at Climate Quest. William from 10th Fareham Cubs, Hampshire has had a fab weekend of activities learning lots of things about global warming, recycling. He has loved every minute of it."
"Bird feeders made, extreme weather report and macaroni cheese made for dinner. Oliver has had a great weekend doing the activities. Thank you to everyone involved."
During the weekend the number of followers on the ReQuest2021 Facebook page reached over 500 https://www.facebook.com/groups/ReQuest2021
For more information about Climate Quest and the Research2021 project contact info@request2021.org.uk or visit www.ReQuest2021.org.uk                 [NUMBER OF WORDS: 367]
ReQuest2021 Home Challenges!
Some great questions coming through from the research taking place on Antarctica! And as a result of Sophie and Oliver's questions, I thought this quick activity would be perfect. Making an Origami Whale. This is an activity brought to our selection camp as an 'Antarctica in an Icebox' idea and I really enjoyed it so now's your turn! If you have any origami paper then use that but if not grab an A4 piece of paper and you can decorate it afterwards.
Remember, if you have taken part in any of our activities, share your photos, discoveries or questions, tagging us with #request2021 (on instagram), @request2021 (on twitter) or email us (badges@request2021.org.uk)
This video also features one of our ReQuest2021 fundraising badges! Once you have completed three of our virtual Scouting activities you have earnt your own ReQuest2021 badge which we can send to you for a £3 donation.
All money goes towards our fundraising efforts for our expedition to Antarctica. Follow the link for more information http://www.request2021.org.uk/ For badge requests, email badges@request2021.org.uk
And if you missed it here is the Penguin Loo Roll video again….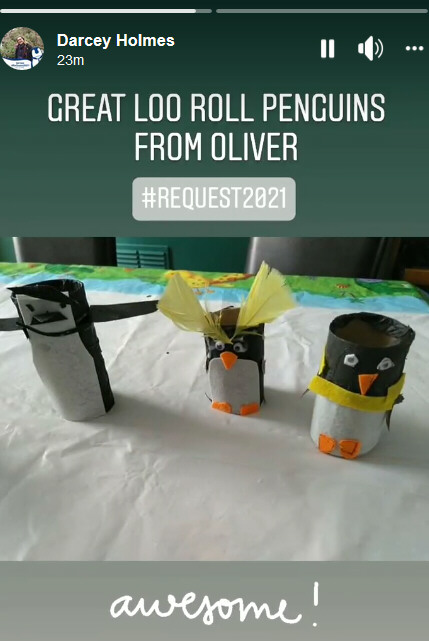 Loo Roll Penguin
To keep you entertained for the upcoming weeks, we have come up with some activities relating to Antarctica and our expedition, ReQuest 2021. Here are the first two and the next will be released in the next few days. Have fun!

Penguin Loo Roll

You will need;

-A loo roll (toilet roll)
-Pair of scissors
-Glue/tape, colouring materials (anything, it could be paint, pens, card,etc)
-Plain white paper

What to do;
Draw a line a couple of centimetres from the rim around the roll.
Cut down to and then along the line until you have a rectangular segment
On this rectangular segment draw two wings (you can fold it in half so the wings are the same) and cut them out.
With the remaining pieces of the rectangular segment, cut out two feet and a triangle for the beak.
Using paint, spare tissue paper, crayons, pencils or pens colour the wings black then the beak and feet orange.
Now time to decorate the main body of your penguin. Remember it's white belly (you can use white paper) and eyes.
If you have any googly eyes around the house, use those Once your main body is finished, glue or tape on your feet, wings and beak.
If you have any split pins, attach the wings at the top so your penguin can waddle! Voila, you have a penguin! If you're feeling creative, try making different penguin species like the Rockhopper.

As part of our ReQuest fundraising, we have 7 penguins to represent the levels of sponsorship. Try making each one.

Follow the link for details http://www.request2021.org.uk/our-sponsors/

AND Antarctica Investigation Watch/read a documentary, film or book about Antarctica. Write down three things you've learnt and a question you have for us about our expedition or for us to investigate.

If you have undertaken any of our activities, share your photos, discoveries or questions, tagging us with #request2021 (on instagram), @request2021 on Twitter or email us (badges@request2021.org.uk) In the following weeks, we will be sharing lots of Antarctica related activities to take part in and learn more about our expedition.

Once you have completed three of these activities you have earned your own ReQuest2021 badge which we can send to you for a £3 donation.

All money goes towards our fundraising efforts for our expedition to Antarctica. Follow the link for more information http://www.request2021.org.uk/