Our Case for Support
CLIMATE CHANGE ACTIVIST GRETA THUNBERG SAYS,
If a few children can get headlines all over the world just by not going to school – then imagine what we all could do together if we really wanted to.
She certainly has a point but do you think young people should strike from school to raise awareness of Climate Change?
Well now you can help send some young people to 'school' in Antarctica instead! The Kent Scouts ReQuest2021 Project is doing just that. Our mission is to develop six young Antarctica ambassadors who then will create a future legacy by sharing their polar research experience to inspire thousands of other young people.
Each of the young people YOU help support will have to:-
…FUNDRAISE towards the overall total costs for their expedition.
…PROMOTE Scouting's strong heritage links with Shackleton's 1921 Quest Expedition.
…LEARN how to crew a one-hundred-year-old sailing vessel through Antarctic waters.
…EDUCATE younger children about climate change and endangered Antarctic wildlife.
…UNDERTAKE an Antarctic Research Project and present their results upon returning.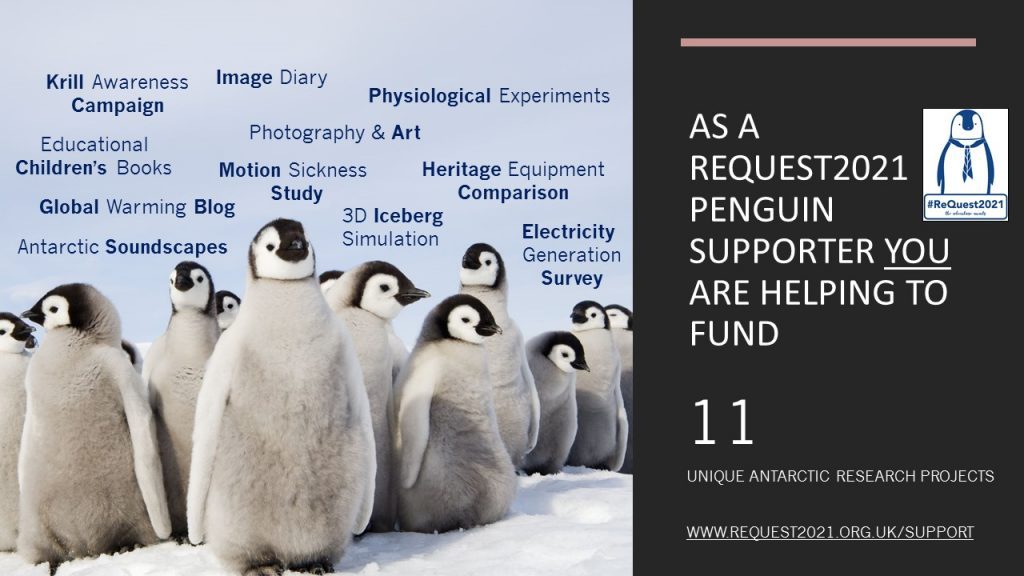 Kent Scouts Global Projects now has a strong track record of running large successful international expeditions. Back in 2009 they ran an eco-awareness training project in South Africa, in 2012 a team climbed Kilimanjaro, in 2018 twenty-four scouts helped with school building and malaria education in Ghana and in 2020 a group are heading off to work with a charity supporting street Children in Kenya.
And now the money bit…! To deliver this project successfully is going to require total funds of £110,000 by 30th June 2021. Flights and Antarctic voyage amount to £10,000 for each of the ten project participants. Plus, another £10,000 is required for pre-expedition training, equipment and resources to achieve the other project objectives – such as the heritage plaques being carved out of Caithness slate which are £1000 each.
So, if you live in Kent (or Aberdeen!) you can attend one of our popular Community Fundraising Events. We are also seeking Corporate Sponsorship and can in turn promote your brand on all our printed literature and online media. Finally, we welcome fresh ideas from individuals or organisations to fundraise for us.
HELP OUR YOUNG ANTARCTIC AMBASSADORS MAKE A DIFFERENCE
SPONSOR THE PROJECT NOW:
http://uk.virginmoneygiving.com/fund/request2021