ReQuest2021 Podcast Ep.31
Podcast: Play in new window | Download
Subscribe: RSS
EPISODE 31 – Sunday 1st May 2022 – ANTARCTIC ISOLATION – PART 1

This episode is entitled ANTARCTIC ISOLATION – PART 1 and covers the first few days visiting the Antarctic Peninsula. It includes: Alan's Covid Test Results, Our First Iceberg and Penguin Island.
There is also the REQUEST interview with our fellow passenger – Mark Ashcroft – from Merseyside in the UK, who was on White Watch with Genevieve, Darcey and I.
After the main podcast there is also some bonus content of our Shackleton Scouts' Own Ceremony and Investiture Ceremony.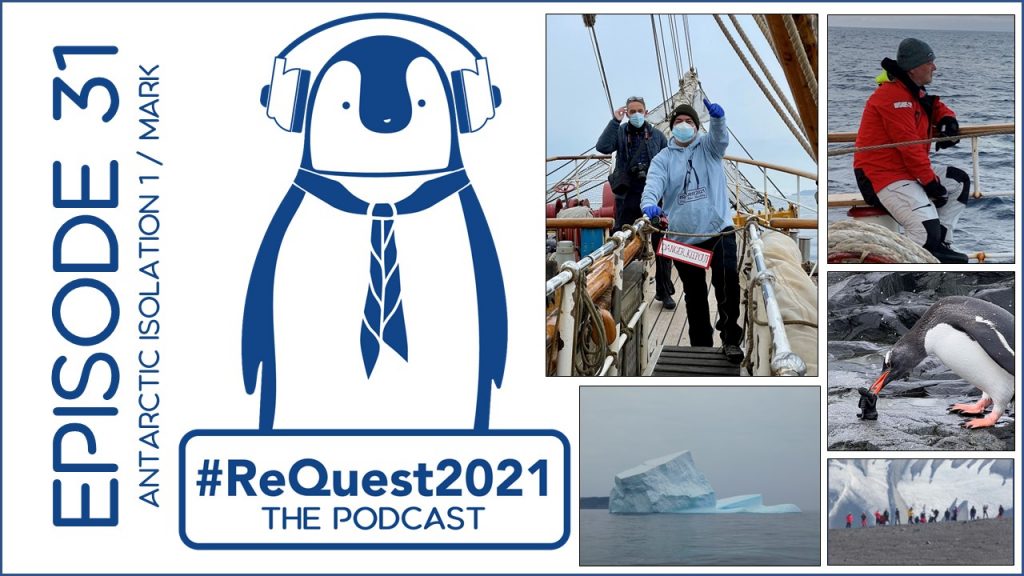 00:00 Theme Music – "Antarctica"
00:45 Welcome Message
01:50 Alan's Covid Lateral Flow Test Result
02:36 Alan's Covid PCR Test Result
03:38 Alan – In Library – Post Covid Test Results
05:05 Alan – In Cabin One – Post Covid Test Results
06:57 First Time On Deck In Antarctica
29:15 Our First Iceberg In Antarctica
31:05 Back To Cabin One
31:46 Sound Of The Anchor Chain from Cabin One & Ship's Alarm
32:38 Penguin Island – Bow Of Europa 5th January 2022
34:46 Sound Of Penguins – Penguin Island
35:38 Commentary – Penguin Island
39:38 Alan & Axel – Chat With Eric The Europa Captain & More Commentary
43:55 Alan & Axel – Dancing To Keep Warm
45:42 Commentary – Zodiak's Returning From Penguin Island
46:22 Helen – Introduction To Shackleton Scouts' Own Ceremony
46:52 Overview Of Bonus Material
47:25 Reflection On 5th January 2022
48:00 REQUEST interview with Mark Ashcroft
55:45 Closing Message
56:29 Theme Music – "Antarctica"
57:15 Introduction To Bonus Material
57:38 Bonus Content – Shackleton Scouts' Own Ceremony on board Europa
1:19:06 Bonus Content – Investiture Ceremony on board Europa
1:24:03 END