ReQuest2021 Podcast Ep.36
Podcast: Play in new window | Download
Subscribe: RSS
Tuesday 14th June 2022 – PARADISE BAY / NEKO HARBOUR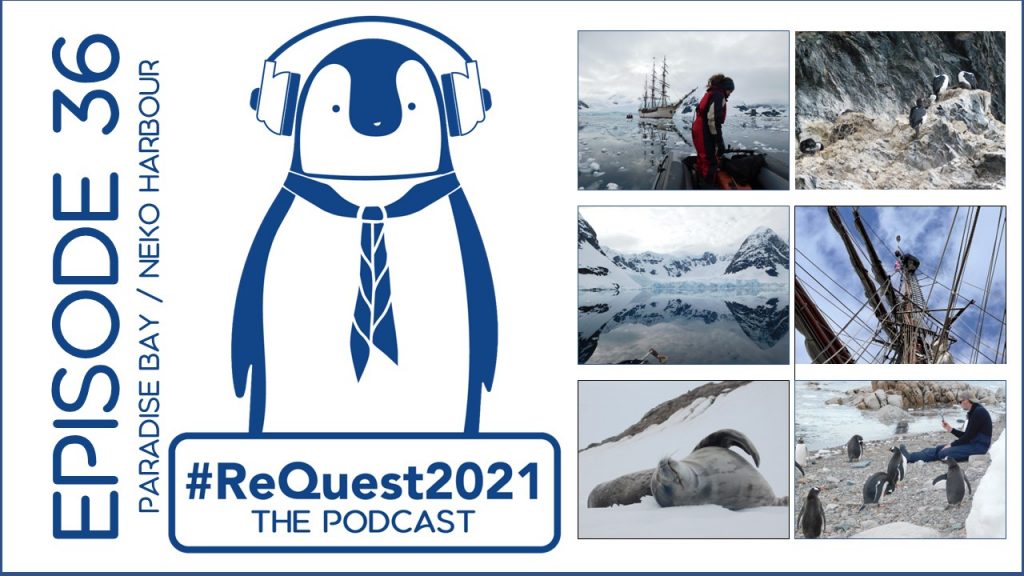 A zodiac cruise on 13th January 2022 around Paradise Bay with Sarah our guide visiting Brown Station, Blue Eyed Shags nesting and glaciers with a surprise visit by a whale. Some underwater hydrophone recording. An afternoon sitting on the Beach at Neko Harbour surrounded by penguins and seals.

PLUS Bonus Content: Nansen Net Krill Sampling; Conversations and other recordings at Neko Harbour.
00:00 Theme Music – "Antarctica"
00:45 Welcome Message
02:18 13th January 2022 Early morning watching penguins
03:31 Alan & Axel on a Zodiak Cruise with Sarah
31:04 Underwater Sound Recording while a Whale was by the Zodiak
31:26 Alan & Axel on a Zodiak Cruise with Sarah
41:21 Underwater Sound Recording off the side of the Zodiak
46:21 Alan after Climbing the top of the Main Mast
47:03 Zodiak ride to Neko Harbour
54:36 Spending time at Neko Harbour
1:06:32 Watching a Weddell Seal Up Close
1:07:47 Lapping Water
1:08:48 Penguin Party!
1:10:27 On the beach at Neko Harbour
1:12:56 Alan's reflections on Antarctica, Neko Harbour
01:21:50 Closing Message
1:23:10 END
BONUS CONTENT
1:23:10 Final Nansen Net Deployment
1:33:41 Review of TASK "Krill Sampling" project
1:34:50 Alan & Cathy chatting – Neko Harbour
1:35:34 Alan & Erik chatting – Neko Harbour
1:39:11 Last moments at Neko Harbour