Scouts mark centenary of Shackleton's departure for Antarctica on the River Thames by sailing historic flotilla under Tower Bridge and launch their own Antarctic expedition
Exactly 100-years after Sir Ernest Shackleton's ship Quest set sail on the Thames for Antarctica a ten strong team of Scouts and leaders have recreated Shackleton's departure from London
The Scouts sailed a flotilla of half a dozen vessels lead by the historic Lady Daphne under Tower Bridge exactly 100 years after Shackleton's expedition departed for the Antarctic
The Shackleton-Rowett Expedition of 1921-1922 included two Scouts: James Marr and Norman Mooney. On 30th December 2021 the team of ten scouts and their leaders will follow in Marr and Mooney's footsteps and depart from South America for Antarctica.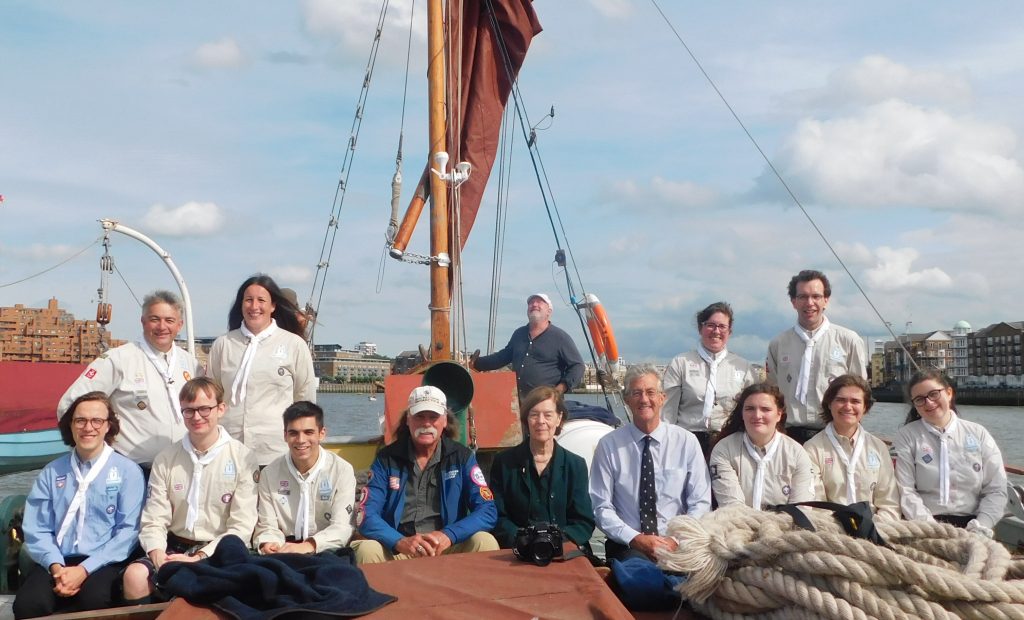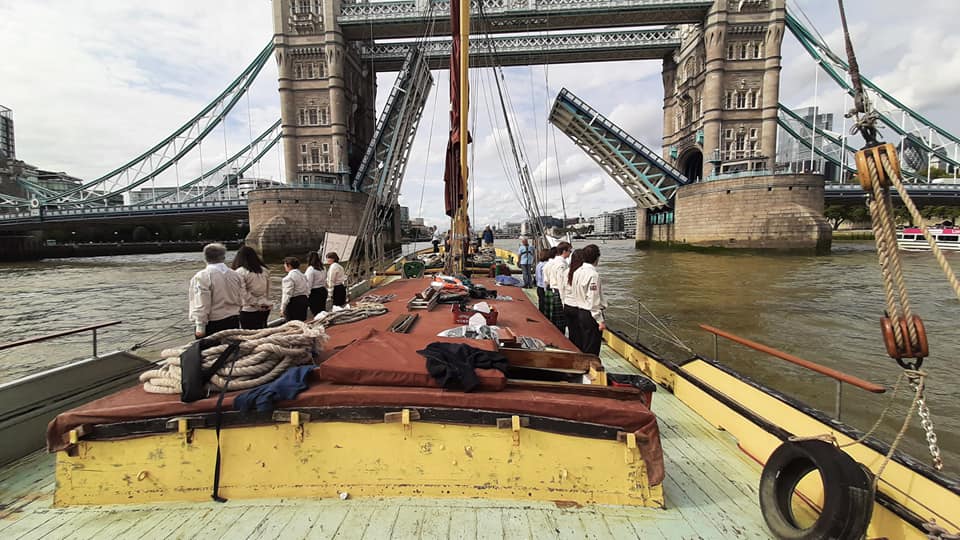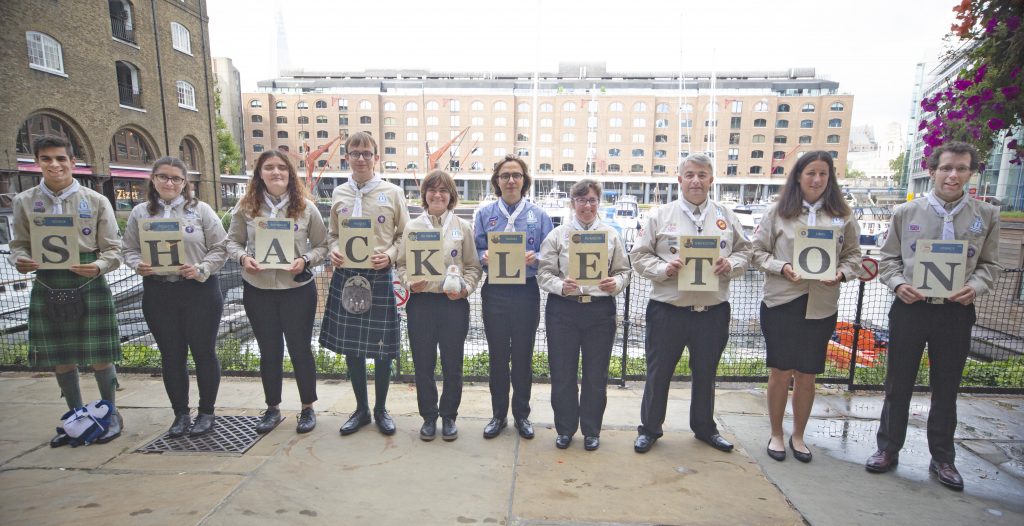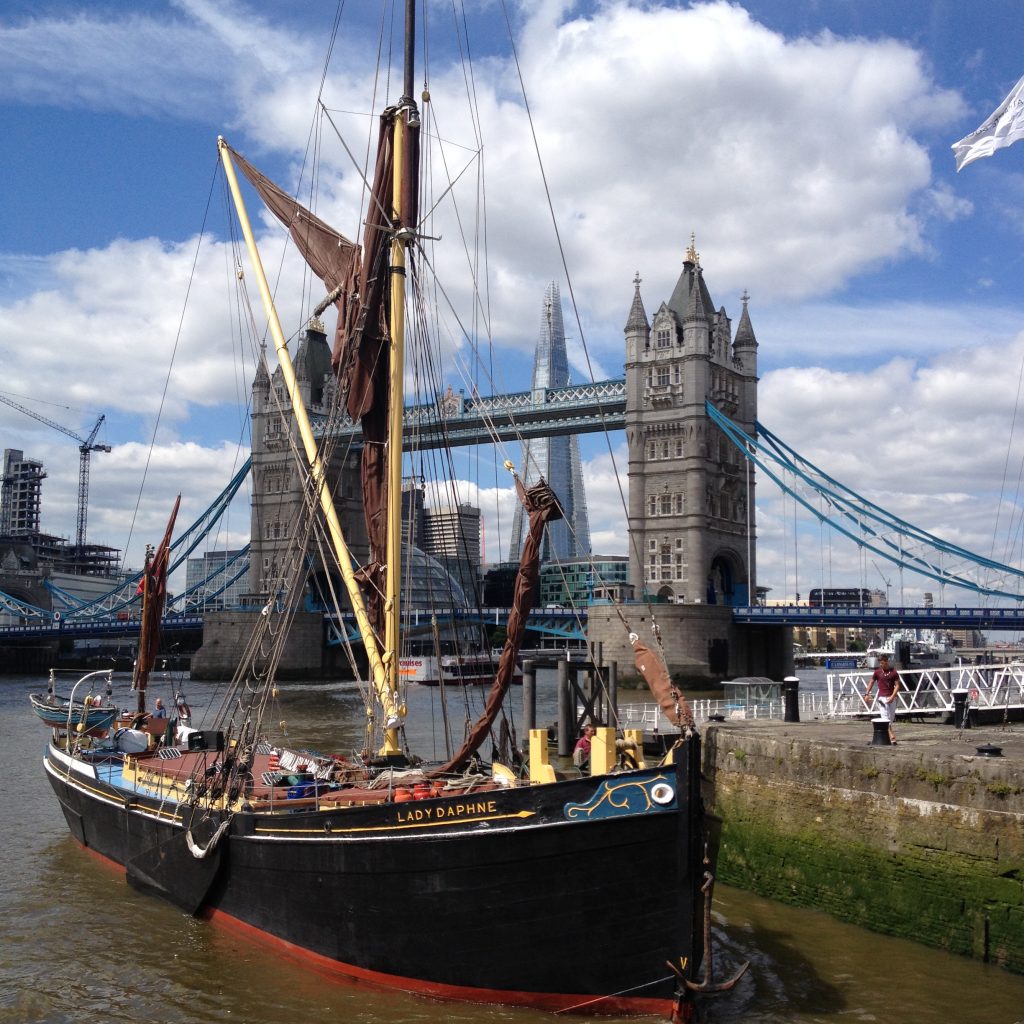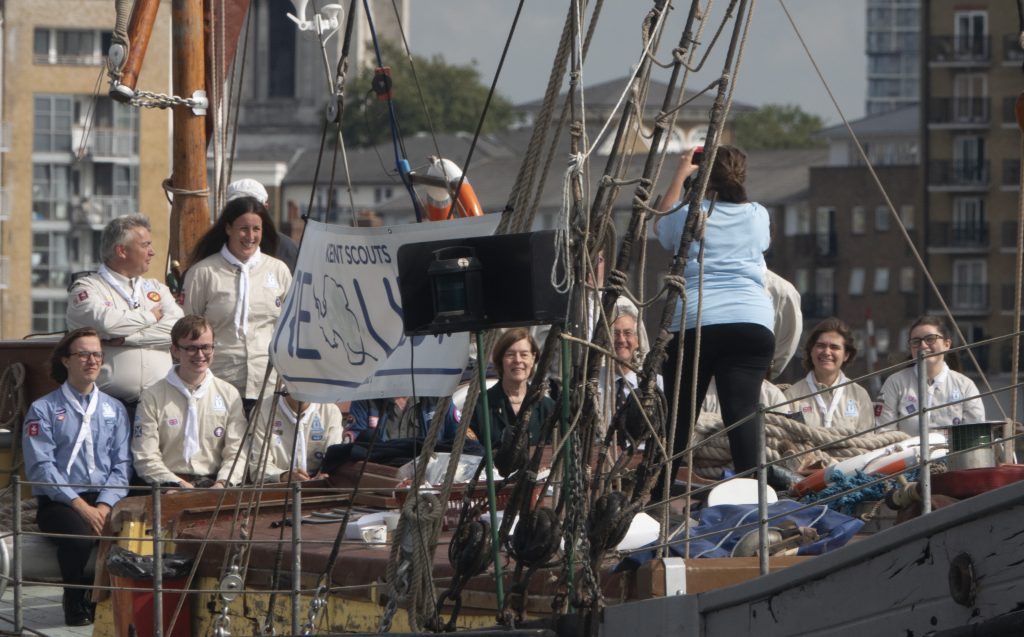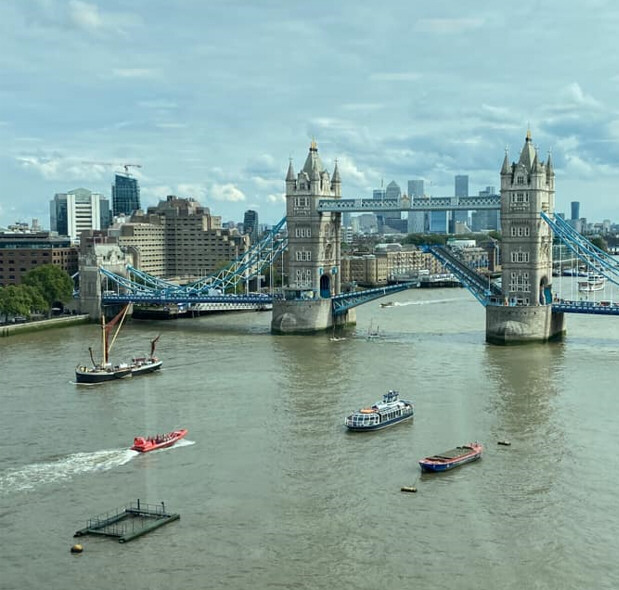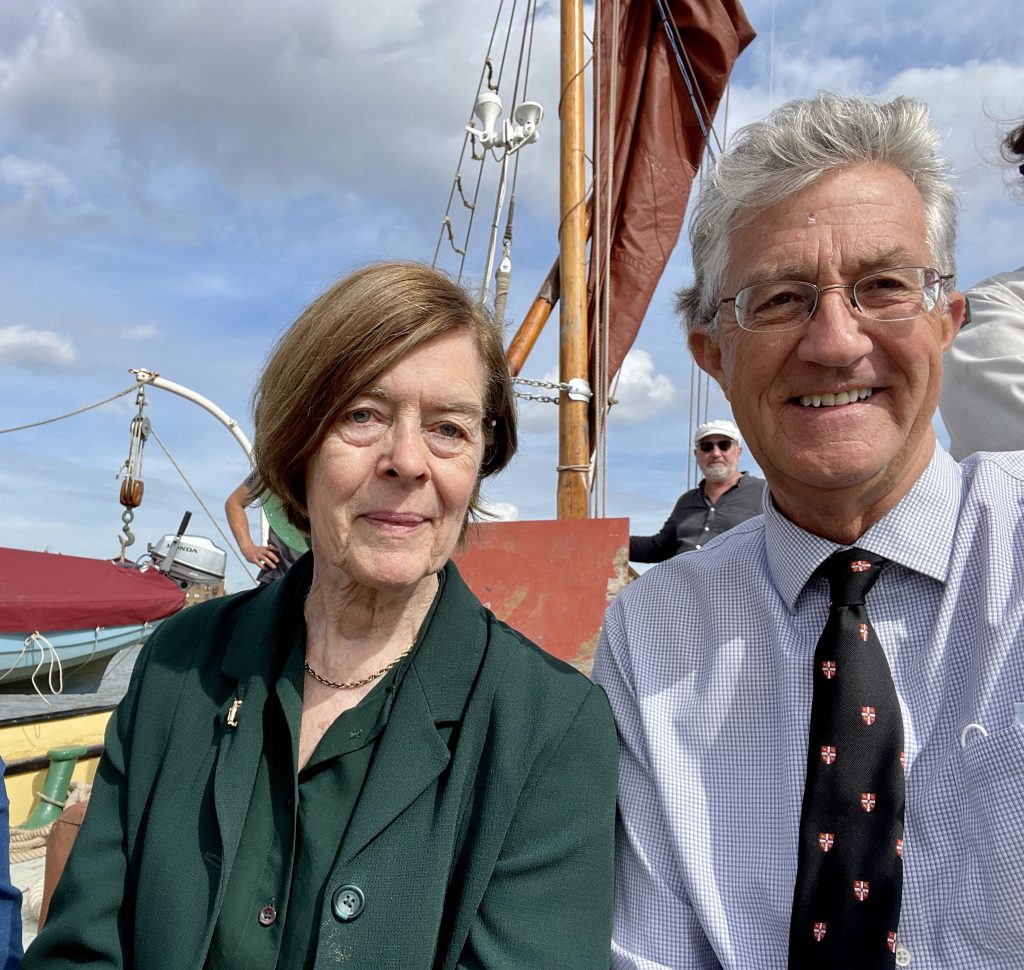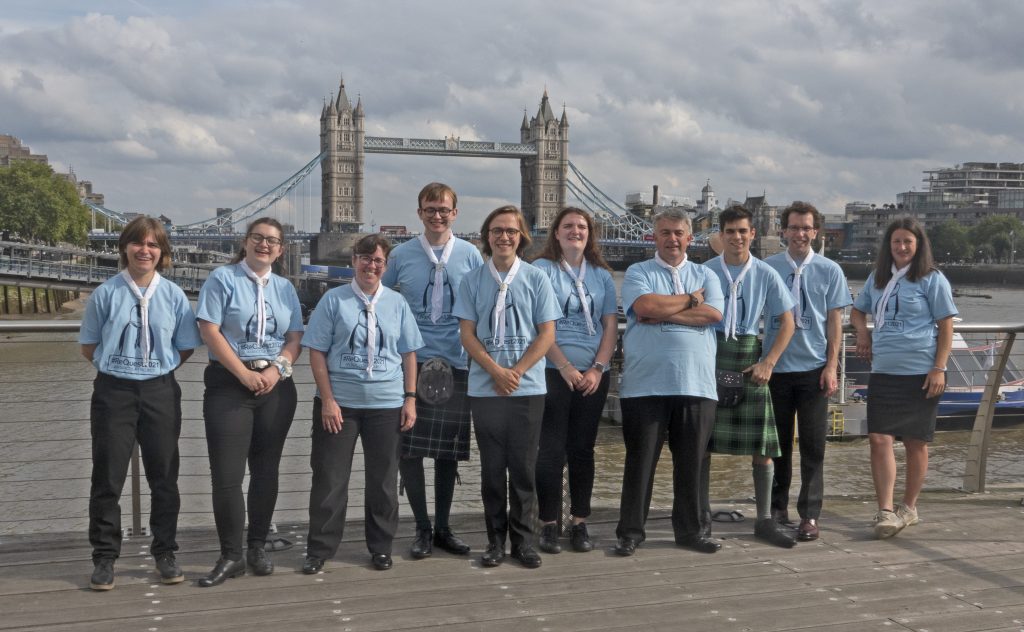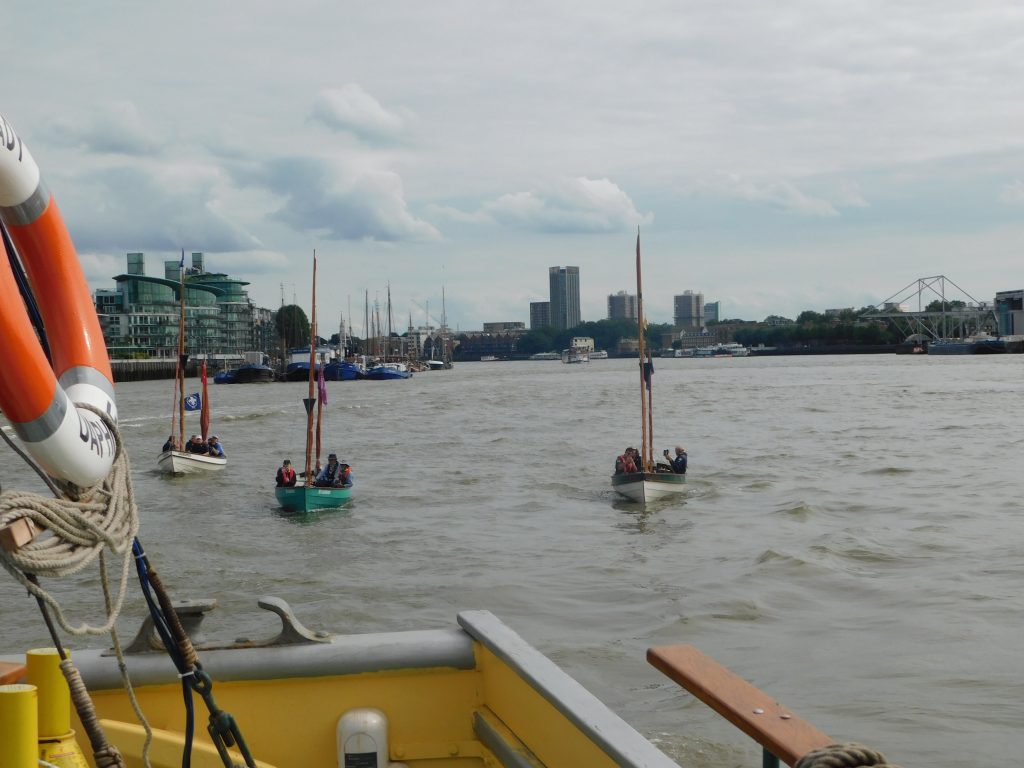 The Kent Scouts boat Cassiopeia was crewed by members of the 8th Faversham Sea Scout Group RN21, the Group that George Stonor (REQUEST2021 participant) grew up with: John Carden – SL, Wayne Burney – SL, Drew Burney – Scout Network but Cub and Scout with the 8th Faversham. Christopher White – ESL Warrior ESU / 1st Portsmouth Sea Scout Group and former member of the 8th Faversham (Peter's brother and John's nephew.) Becky Holden – Group Occasional Helper 1st Portsmouth Sea Scout Group.
1st Portsmouth Sea Scout Group have a connection with Tower Bridge, they were founded in 1907 (or earlier) by renown marine artist William Lionel Wyllie who painted "The Opening of Tower Bridge" in 1894, the picture is in the Guildhall Art Gallery and is featured on the Tower Bridge website were it records the 7 most interesting vessels to pass through the bridge.
17th September 2021 A team of ten Scouts officially launched their Antarctic Research Project – ReQuest2021 – in London on board the 100-year-old Thames barge called the Lady Daphne.
The Lady Daphne was part of a flotilla of half-a-dozen Scout boats that made their way from Greenwich and then under Tower Bridge – which opened its famous bridge spans – into the Pool of London to mark the launch of the Scout's ReQuest2021, Antarctica Project.
The team of Scouts on board Lady Daphne were hand-picked for their personal research projects on topics spanning climate change, the arts and science.
One experiment the team will undertake is to study the Krill population of the region which is a basic component of the Antarctic food chain. To do this the team has using the same style of Nansen Nets as originally used by Marr in his the experiments conducted 100 years ago. The data collected in 2021 will be compared to the data collected in 1921 and real time information will be gained on the health of the Antarctic waters.
Launching ReQuest2021 the Honourable Alexandra Shackleton, granddaughter of Sir Ernest Shackleton, said:
"I am enormously impressed by the attitude, dedication and attention to detail that these ten members of Scouting have shown. It will be a truly life-changing experience for each and every one of them. I am very much looking forward to learning more about their individual projects and how we can work together to educate more people around the world about the need to protect our fragile polar ecosystem."
The 23-day expedition will begin on 30th December 2021 with the 2000km+ voyage on board Bark Europa from Ushuaia, Argentina, crossing the infamous Drake Passage, to the Antarctic Peninsula which the Scouts will be exploring for two weeks.
Whilst in Antarctica, as well as working on their projects, the team will get to help crew the tall ship and to visit the UK Antarctic Heritage Trust base of Port Lockroy. They will also make a number of landings to study wildlife and carry out some ice trekking through dramatic scenery.
Lucy Morgan from Kent Scouts said:
"A key part of this expedition is to help educate young people about the impacts of climate change. We are also encouraging them to take their own climate action to protect Antarctica and other at-risk areas. So far we have used a mixture of online and face-to-face activities to reach over 1,000 young people. We are hoping to reach even more across Kent and the UK before our expedition departs. This is an urgent issue and we must act now to minimise losses for future generations."
Expedition leader, Alan Noake, said:
"Antarctica is the ultimate destination to give our young people a sense of adventure. Our project aim is to develop their skills for life as ambassadors of peace, environment and heritage for this fragile world location."
Dwayne Fields – Naturalist and Polar Explorer said
"Recreating expeditions like Shackleton's classic 1921 journey gives Scouts from 2021 a real way to experience what those Polar pioneers must have experienced 100 years ago. Being inspired by Shackleton and some of the other greats from our past as well as sharing some of the same experiences that Shackleton's team did back in 1921 helps shine a modern light on climate change issues which is the greatest challenge of our times. It's important to see the Scouts doing their bit to tackle this issue."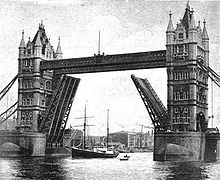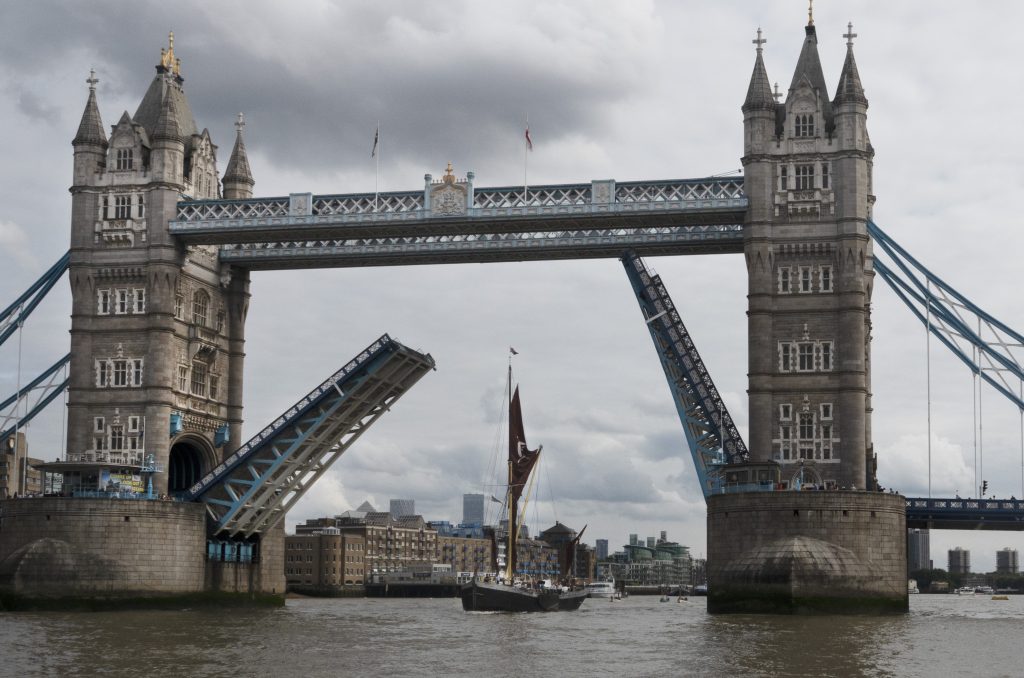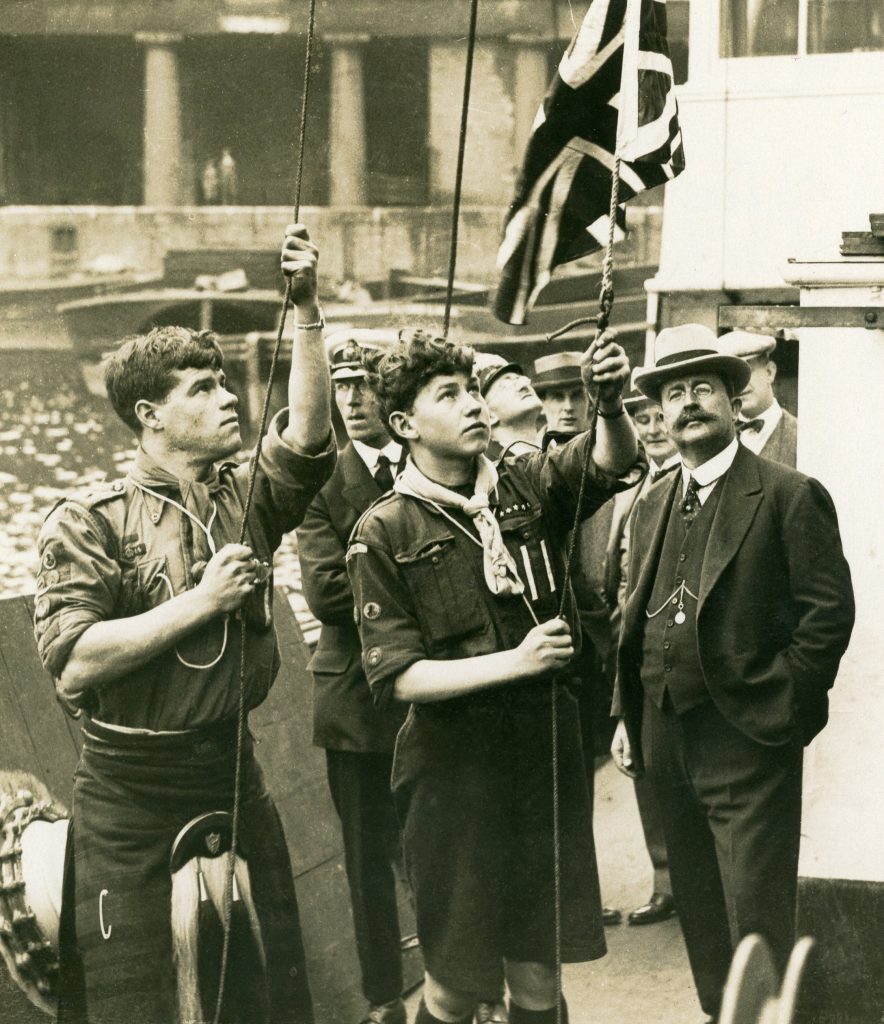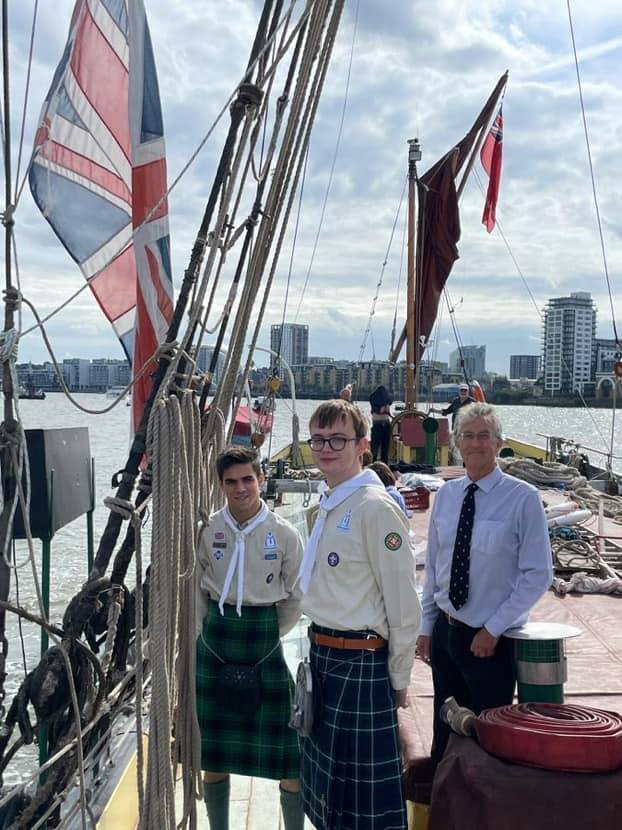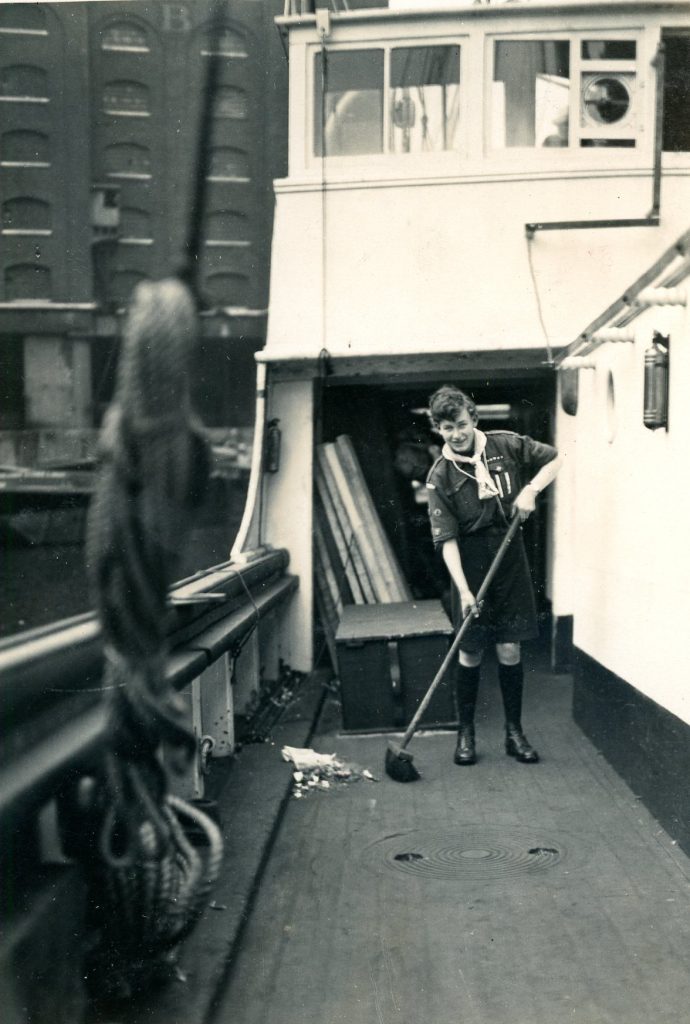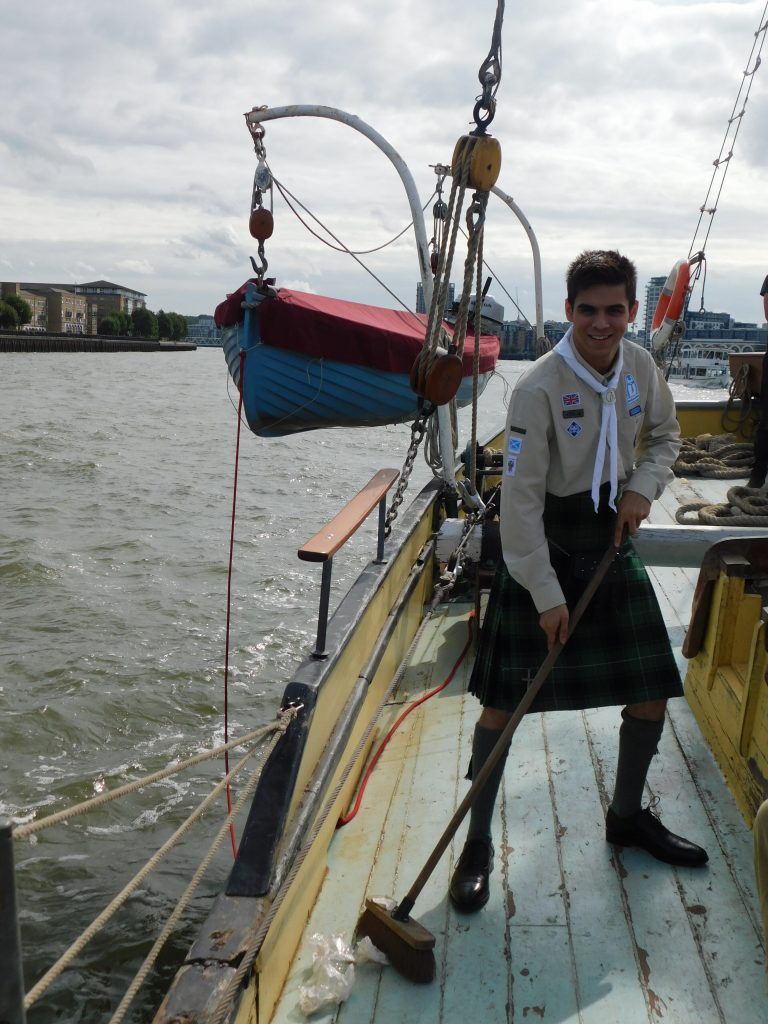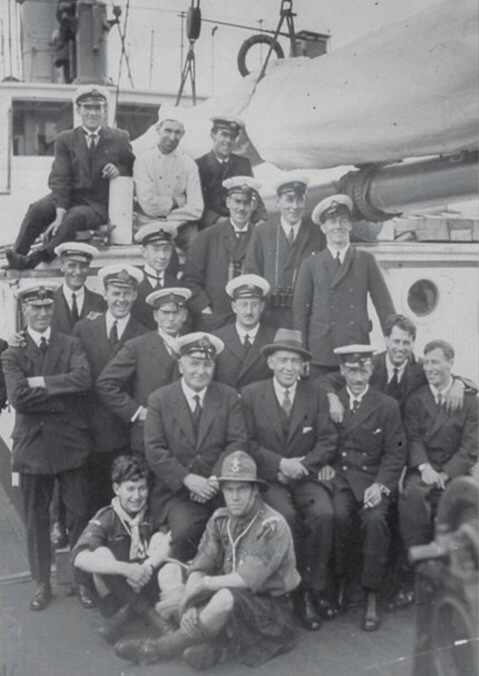 About the Project
For more information about the ReQuest2021 expedition and the research projects, please visit and follow our Facebook group: https://www.facebook.com/groups/ReQuest2021
The ReQuest2021, Antarctic Research Project Team will be sailing on board Bark Europa tall ship from Ushuaia, Argentina to the Antarctic Peninsula from 1st to 23rd January 2022.
Over the past four years the ten Scouts have undertaken fundraising activities including a rowing challenge, grand auction and online merchandise sales to raise £110,000 for the expedition.
Lady Daphne is a 100-year-old Thames barge. The project team and other Scout volunteers have completed over 1500 volunteer-hours during the past year helping to restore it especially for the project launch day.
A key sponsor of the Request expedition is the East and West Kent Freemasons which have the same core values of supporting young people www.eastkentfreemasons.org and www.westkentmasons.org.uk
The team of ten include eight members of Scouting from East and West Kent and two from Aberdeenshire and Perthshire, Scotland representing the two original Scottish Scouts who sailed with Shackleton on the original Shackleton-Rowlett 'Quest' expedition. Individual photos of each of the participants are also available.
On Saturday, 17th September 1921 precisely at one o'clock, Sir Ernest Shackleton gave the word to cast off. His ship Quest also famously sailed from St. Katherine Docks with a detour through Tower Bridge to begin its journey across the Atlantic Ocean to Antarctica.
Marr went on in later life to produce the "THE NATURAL HISTORY AND GEOGRAPHY OF THE ANTARCTIC KRILL (1962)" which is still the definitive research document on Krill and emphasising their importance to the Southern Ocean food chain.
Individual Projects: CLIMATE CHANGE (LUCY), PHYSIOLOGICAL EXPERIMENT (GENEVIEVE), 3D ICEBERG SIMULATION (GEORGE), COLLABORATIVE ARTWORK (DARCEY), OCEAN CURRENTS (SAM), ANTARCTIC SOUNDSCAPE (ALAN), MOTION SICKNESS STUDY (CATHY), PHOTOGRAPHIC JOURNAL (LAURA), ELECTRICITY GENERATION (MATT), GEOMAGNETICALLY INDUCED CURRENTS (ALEX)
Group Project: THE ANTARCTICA SCOUT KRILL project. Partnership with British Antarctic Survey to study and raise awareness of the importance of Antarctic krill to the Southern Ocean ecosystem.
Dr Jan Chojecki, grandson of John Quiller Rowett, the friend of Shackleton who financed the 1921 expedition, has been helping plan the expeditions' individual and group projects
EXPEDITION PARTICIPANT NAMES AND LOCATIONS THEY ARE FROM: –

Alan Noake, Deal, Walmer, Sandwich & District Kent

Cathy Mummery, Weald District, Kent

Matt Wood, Malling District, Kent

Laura Bernard, Folkestone District, Kent

Lucy Morgan, Sevenoaks District, Kent

Genevieve Scullion, Deal, Walmer, Sandwich & District, Kent

George Stonor, Faversham District, Kent

Darcey Holmes, Thanet District, Kent

Sam Payne, Inverurie, Aberdeenshire, Scotland

Alex Maciver, Aberfeldy, Perthshire, Scotland
Donations welcomed: http://uk.virginmoneygiving.com/fund/request2021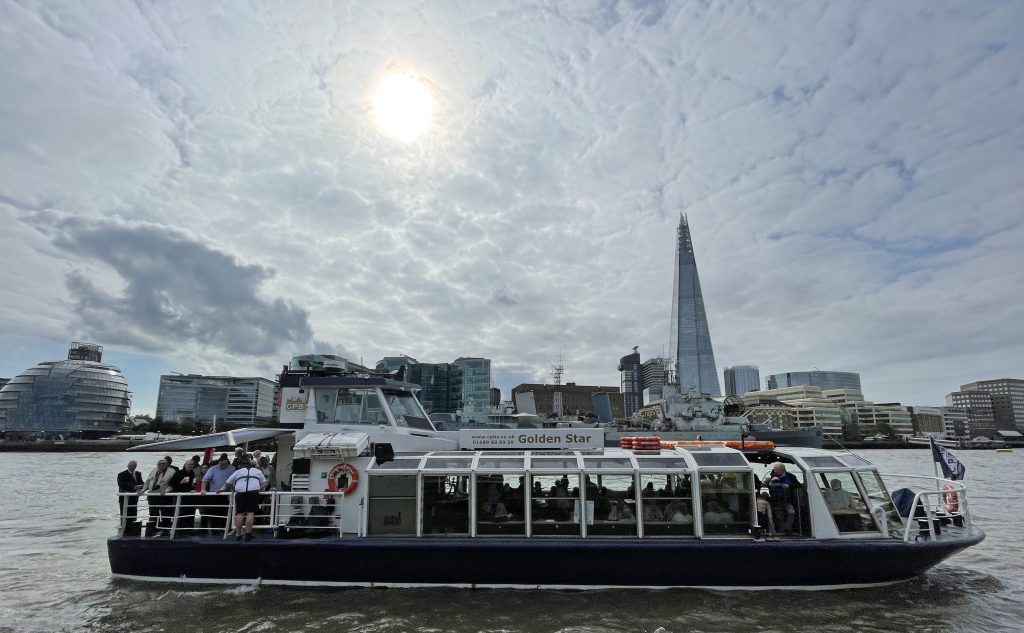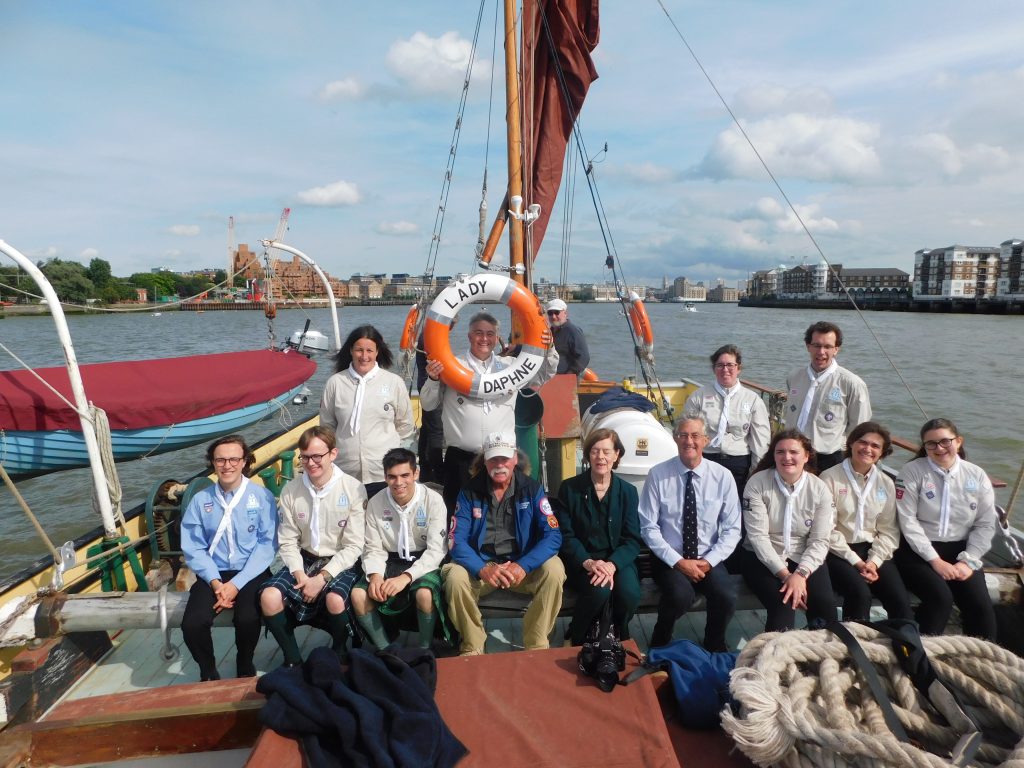 About Scouts:
 All genders, races and backgrounds are welcome at Scouts. Every week, it gives almost half a million people aged 6-25 the skills they need for school, college, university, the job interview, the important speech, the tricky challenge and the big dreams: the skills they need for life.  
Scouts helps members gain these skills by encouraging them to ask the big questions and listen with wide open minds. It helps them to take a deep breath and speak up, think on their feet, ignore the butterflies and go for it. With Scouts, young people don't give up – they get back up and try again, often with the support of the friends they've made there.  
Our volunteers contribute more than 50 million hours of voluntary work each year to their local communities.  
Find out more about Scouts on https://www.scouts.org.uk